People from all over the world come to Santa Fe, and for many reasons, including romance. Here are 7 reasons why Santa Fe is a romantic getaway, one worth visiting time and time again.
#1 – Stunning Scenery
What's more romantic than a beautiful sunset over miles of rolling terrain dotted with aspens, pines, and mountains in the distance? Scenic views are abundant in Santa Fe and vary with the weather. Take in the vistas in a variety of ways:
From sunrise to sunset and even into the night, Santa Fe's beauty shines bright.
#2 – Stargazing
Santa Fe is surrounded by thousands of acres of raw, undisturbed nature, which means nighttime becomes a light show of twinkling stars and galaxies. Thanks to New Mexico's Night Sky Protection Act, which was enacted in 1999, you can enjoy the breathtaking night skies around Santa Fe even more.
One special place is located just an hour away from Sante Fe: Valles Caldera National Preserve. This is one of the darkest night skies in the world. In fact, in 2021, Valles Caldera was declared an official International Dark Sky Park from the International Dark Sky Association. Gazing at the stars is simply a romantic way to spend an evening with your special someone. Take a scenic drive during the day and stop at Valles Caldera for a night show you'll remember for years to come.
#3 – Wine Tasting
You may be surprised to know that wine in Santa Fe dates back to the 17th century. History combined with ideal soil for certain grapes creates delicious wines, like Pinot Grigio, Riesling, and Syrah. Wine tasting in Santa Fe can be wonderfully romantic. The lush vineyards and scenic mountains create a wonderful backdrop for enjoying one another's company while touring the wineries, sipping new flavors, and shopping for new wine finds. Try one of these top, award-winning wineries during your stay.
#4 – Canyon Road
If you or your partner love art, in any form, then spend the day exploring Santa Fe's famous Canyon Road. Stroll hand in hand down the bustling sidewalks as you pop into one art store or gallery after another to browse the pottery, jewelry, paintings, photography and more. You'll see a great variety of displays that reflect everything from Native American culture and history to today's contemporary art. Take a break for lunch or dinner at one of the city's great restaurants.
#5 – Great Restaurants
The City Different is home to a lot of great restaurants offering a range of cuisines, from African and American to Italian and Southwestern, and many in between. Explore our favorite restaurants, and then reserve a table for two for a romantic evening dining on delicious fare and sipping fine wine as you relive your incredible experiences in this enchanted city!
#6 – Margarita Trail
Featuring the best bars and restaurants around Santa Fe, the Margarita Trail is a fun and tasty place to play. Download your Margarita Trail Passport from the App Store and then sip your way through dozens of creative concoctions, from classic lime and agave to spicy green chile.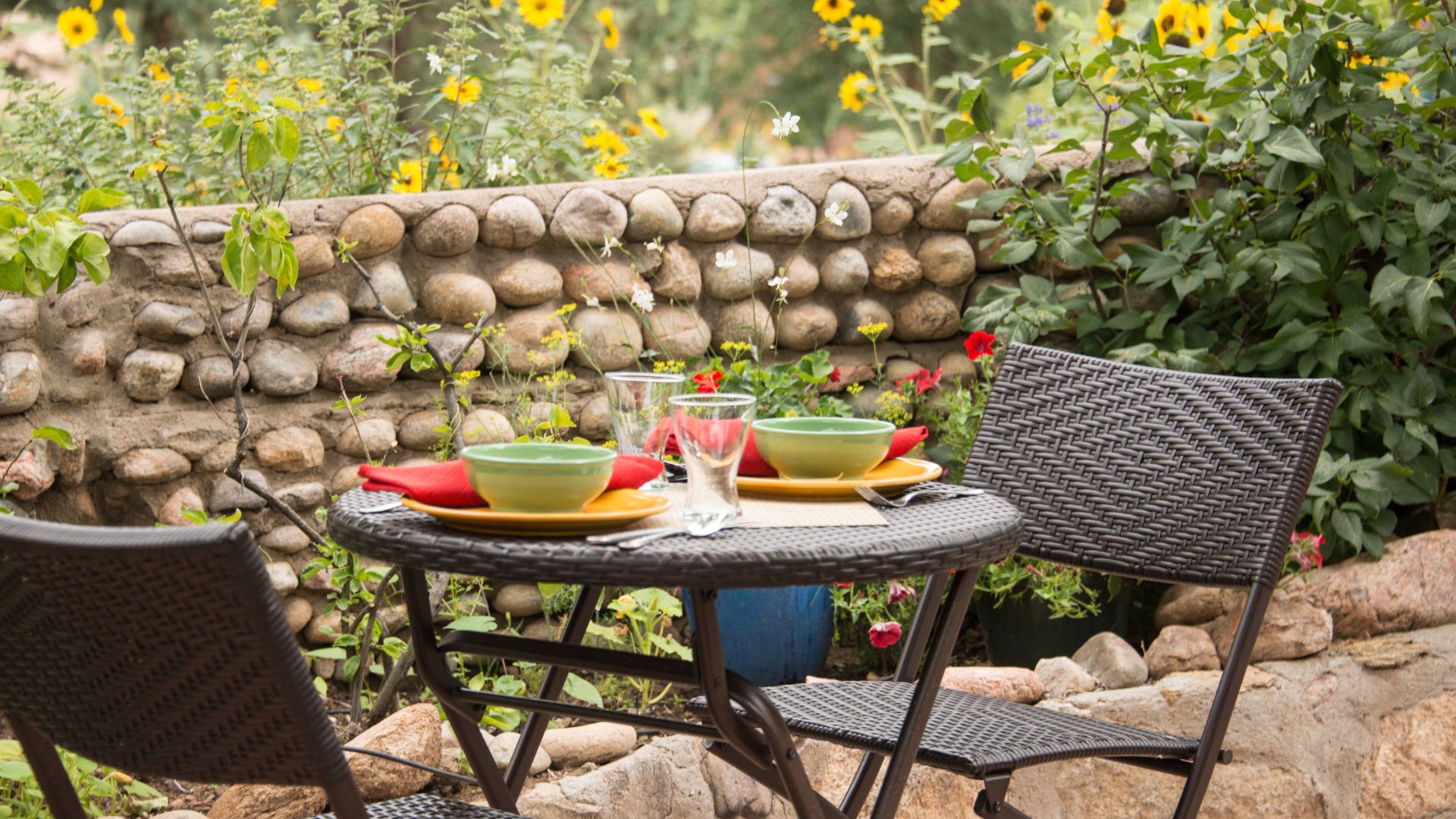 #7 – Inn of the Turquoise Bear Bed & Breakfast
It doesn't get much more romantic than our rambling adobe estate. The warmer months bring lush greenery and colorful flowers, where you can sit or stroll the grounds as you reconnect. The colder months bring the thrill of warming up in front of our Kiva fireplaces with the scent of piñon in the air. Choose one of our custom guest rooms featuring the name of a famous author, actor, or playwright who once roamed the halls. You'll love the privacy, the cozy accommodations, and the outstanding gourmet breakfasts – all in an iconic Santa Fe setting. Book now.