According to the Mirriam-Webster Dictionary, a hike is "a long walk especially for pleasure or exercise." Feeling the uneven ground under your boots, smelling the scent of earth, plants and trees in the air, hearing the wind whistling through the trees and birds singing – the entire experience is invigorating. However, while hiking can be strenuous, hiking for pleasure is first and foremost in Santa Fe. Why? Because Santa Fe is a wonderfully unique and awe-inspiring place. Nestled at the foot of the Sangre de Cristo Mountains, hikers encounter vivid blue skies, exceptionally clean air, stunning sunsets, incredible vistas, and ancient history. Add to that year-round accessibility, a variety of trails for all skill levels, and a peacefulness reminiscent of long ago, and you'll soon understand what sets this enchanted land apart from everywhere else. Lace up your hiking boots and get ready for the best hikes in or near Santa Fe.
Note: depending on the status of wildfires during the dry season, some of these trails might be temporarily closed. Call ahead to confirm accessibility.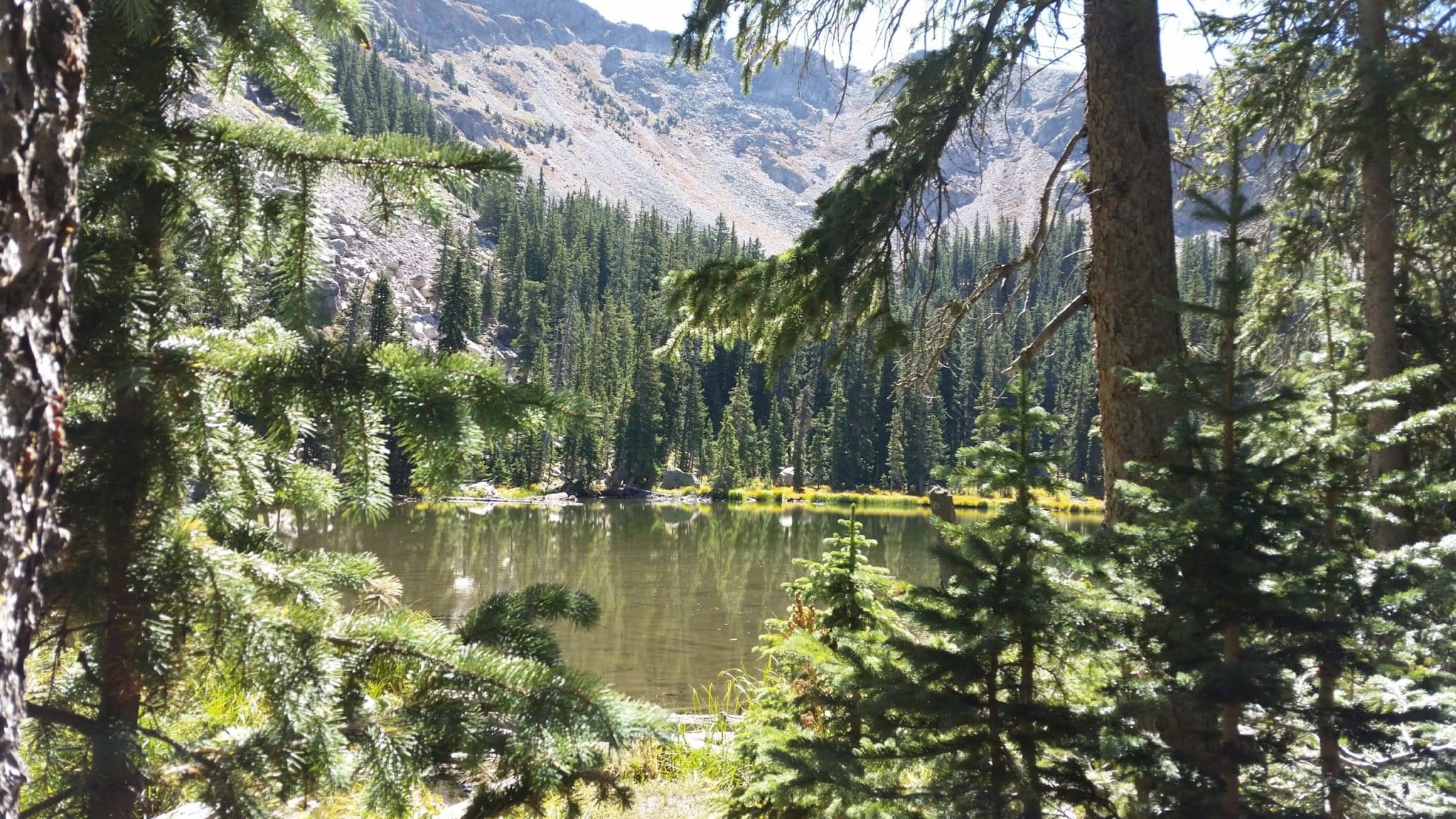 Best EASY Hikes in or near Santa Fe
Nature Conservancy Loop at Santa Fe Canyon Preserve
The Santa Fe Canyon Preserve, established in 2000, has grown to encompass 525 acres of wildflowers, willows, birds, deer and beaver. Located just a few miles from Santa Fe's historic downtown plaza, this Southwestern oasis offers hikers, bird watchers, and nature lovers a 1.5-mile interpretive loop trail through the Santa Fe River wetland area and historic dam site. Along the way, you'll find details about the area's fascinating history and fragile ecology.
Length: 1.5 miles
Elevation: Mostly level
Type: Loop trail
Location: Upper Canyon Rd & Cerro Gordo Rd, Santa Fe, NM 87501, USA
Ancestral Sites Trail
Siutated 17 miles southeast of Santa Fe, this short Ancestral Sites Trail will take you through Pecos National Historical Park to the remains of a large, former Indian pueblo.
Length: 1.25 miles
Elevation: 80 ft.
Type:
Location: Box Canyon & Kitchen Mesa Trailhead, 1709, Gallina, NM 87017
Two Mile Pond Loop
You'll enjoy many types of bird sightings on Two Mile Pond Loop, a pleasant and easy trail with scenic views and a peaceful pond. Not clearly marked, so use a trail map app, like Alltrails.com.
Length: 1.4 miles
Elevation: 91 ft.
Type: Loop trail
Location: Cerro Gordo Trailhead off Cerro Gordo Road
Canyon Trail at Tent Rocks
The Kasha-Katuwe Tent Rocks National Monument on the Pajarito Plateau features unique cone shaped tent rocks and boulder caps formed millions of years ago from volcanic eruptions. The Monument also offers a national recreation hiking-only trail. Bring your camera for incredible photos of geologic formations and birdwatching.
Length: 2.8 miles
Elevation: 751 ft.
Type: Out and back trail
Location: 0 NM-22, Cochiti Pueblo, NM 87072
Atalaya Mountain Trail
Located just outside Santa Fe, you will park your car at the trailhead at St. John's College. This popular and challenging hike leads you through ponderosa pines, junipers, and piñons to a summit that rewards the effort with incredible views. During the warmer months, be sure to bring plenty of water and sunscreen. If time is limited, you can set out from Ponderosa Ridge trailhead.
Length: 6.2 miles
Elevation: 1,797 ft.
Type: Out and back trail
Location:
Randall Davey Audubon Center
Randall Davey Audubon Center features an easy nature trail where you might see deer, turkey, woodpeckers, and other wildlife, as well as pretty vistas. This scenic spot is also the perfect place for a picnic lunch. Enjoy browsing the nature center before or after the hike.
Length: 0.6 miles
Elevation: 104 ft.
Type: Loop trail
Location: 1800 Upper Canyon Road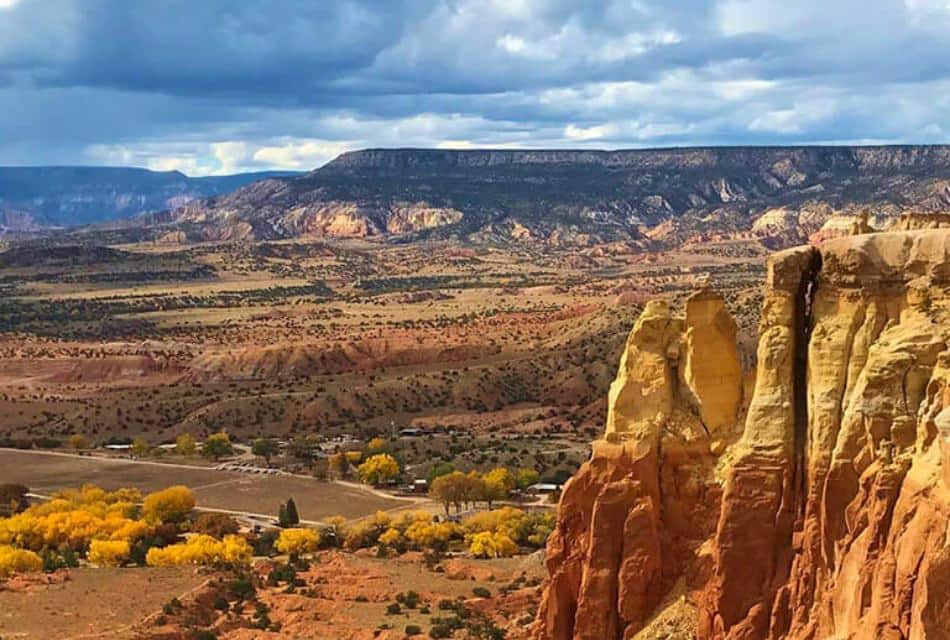 Best MODERATE Hikes in Santa Fe
Chamisa Trail
This easy, well-shaded hike doesn't offer any significant views, but plenty of beautiful trees,woodpeckers, songbirds, and butterflies. There is a bit of uphill and downhill, but with the great footing. During the colder months, there may be ice, so spikes can be helpful.
Length: 4.5 miles
Elevation: 1,148 ft.
Type: Loop trail
Location: 239-251 Hyde Park Rd, Santa Fe, NM 87501
La Tierra Trails Loop
Great for beginners, La Tierra Trails Loop offers hikers elevation changes, great trail conditions, clearly marked trails, and excellent views.
Length: 10.5 miles
Elevation: 941 ft.
Type: Loop Trail
Location: 1212 La Cuchara Rd, Santa Fe, NM 87506
Aspen Vista Trail
Aspen Vista Trail begins at the Aspen Vista overlook. You'll follow a dirt road up to the top of the ski area where you'll be rewarded with a stunning view. After taking photos (and a break), turn around and head back down. You may see wildlife, such as elk, deer, and mountain lions. Plus there are many alpine bird species. This is beautiful in the fall. Tip: some hikers recommend going counter clockwise.
Length: 5.9 miles
Elevation: 2,020'
Type: Loop trail
Location:
Dale Ball Trails North
Well defined with lots of ups and downs, Dale Ball North Trail is a fun but easy trail where you'll enjoy views of the mountains and some homes in the distance.
Length: 4.4 miles
Elevation: 567 ft.
Type: Loop trail
Location: Wilderness Gate Trailhead on Hyde Park Road
Moon Mountain (Monte Luna)
Moon Mountain Trail is well-marked and maintained offering beautiful views, the sound of wind in the trees, and a relatively steep ascent and descent.
Length: 2.7 miles
Elevation: 738 ft.
Type: Out and back trail
Location: Atalaya Trailhead at St. John's College
Best DIFFICULT Hikes in Santa Fe
Picacho Peak Trail
Picacho Peak is a difficult hike but offers big rewards. Part of the 25-mile Dale Ball Trail network, this trail treks up one of the highest hills visible from downtown Santa Fe, so there are ample opportunities for some amazing photos.
Length: 3.8 miles
Elevation: 1,230 ft.
Type: Out and back trail
Location: The Nature Conservatory, 1670 Upper Canyon Rd, Santa Fe, NM 87501
Nambé Lake Trail
Not for the faint of heart, the Nambé Lake Trail offers steep climbs and stunning views. Beginning at the Santa Fe Ski Basin parking lot, look for the Windsor Trail sign. You will trek through the scenic Sangre De Cristo subrange of the Southern Rockies. The trail has a moderate incline at the start, as it winds through Aspen and Pine trees. The downhill portion leads to Nambe Creek and is mostly shaded with pine trees. But on the return, you will tackle some serious elevation. Mt. Baldy. tackling some serious, steep elevation. Alltrails.com recommends bringing along their app or a map as the trail can be difficult to follow at this point.
Length: 6.7 miles
Elevation: 2,080 ft.
Type: Out and back trail
Location:
Kitchen Mesa Trail
Located near El Rito, New Mexico, this popular, moderately challenging trail takes between 1-½ to 2 hours to complete. The best time to hike this trail are March through October.
Length: 3.7 miles
Elevation: 718 ft.
Type: Out and back trail
Location: Tent Rocks, New Mexico 87025, USA
Winsor National Recreation Trail #254
The Winsor Trail is challenging but popular. Located on the Pecos/Las Vegas District and starting from Winsor Trailhead, the trail climbs along and over a couple creeks, through the forest and aspen groves and then to Spirit Lake. From there, you'll hike an easy mile over the ridge and continue into the Espanola District.
Length: 9 miles
Elevation: 3,500 ft.overall
Type: Out and back trail
Location:
Alamo Vista (Tessa's Trail)
This moderate trek is steep both up and back, but the view makes the trek worth it. You might seek elk grazing along the way, and the aspens are especially beautiful during the fall. If you hike Alamo Vista during the winter, snowshoes or spikes are recommended.
Length: 2.4 miles
Elevation: 1,187 ft.
Type: Out and back trail
Location: Aspen Vista Trailhead on Hyde Park Road
Tsankawi Ruins Trail
Hike through Tsankawi Ruins and you'll be stepping back through time. Located in Bandelier National Monument, you'll discover caves, wooden ladders, and petroglyphs. Since you're already there, spend some time exploring the Monument afterward. It's well worth it!
Length: 1.9 miles
Elevation: 235 ft.
Type: Out and back trail
Location: Box Canyon & Kitchen Mesa Trailhead, 1709, Gallina, NM 87017
Here are more hiking trails in Santa Fe to try: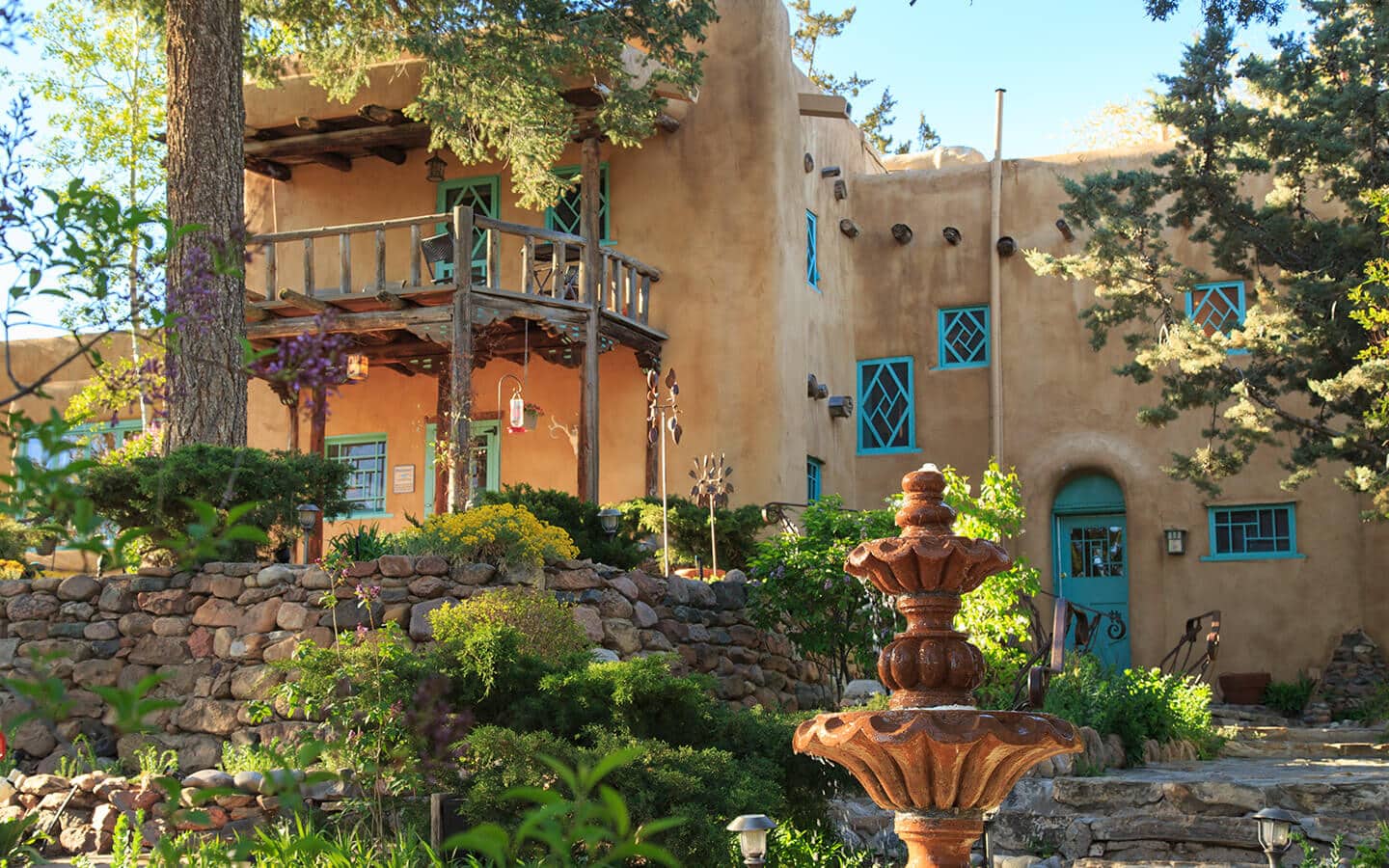 Santa Fe Hiking Accommodations
After taking advantage of these best hikes in Santa Fe, NM amidst the colorful landscape, you'll relish the luxurious amenities at the Inn of the Turquoise Bear. Kick back and relax in one of our courtyards or iconic Santa Fe guest rooms. You'll find a peaceful and authentic setting where you can enjoy a favorite beverage while reflecting on the incredible day.
Santa Fe Hiking Packages
We also offer guests a hiking guide and Trekking Package for Two equipped with hiking poles, food, and everything you need to hike Santa Fe's back country.
Before you head out, arrange to take along one of our deluxe picnic baskets. They're perfect for a refueling after a few hours on the trail. Just remember to leave nothing on the trail except your footprints. We hope to see you. Book Now