Spring, summer, fall and even winter provide perfect opportunities for hiking in and around Santa Fe, New Mexico. The weather is usually comfortably warm during the day and comfortably cool in the evenings. The dramatic colors and textures of the landscape create a stunning backdrop for your hiking experience.
We are happy to help you select a suitable hike based on your preferred skill level, season, and weather. Some of our most popular hikes and walks include: Santa Fe Riverside Park, Randall Davey Audubon Center, trails off of Hyde Park Road (described below), Tent Rocks, Atalaya Ridge, Diablo Canyon, and Bandelier. For the inside scoop on more Santa Fe trails, request our exlclusive hiking guide!
Hyde Park Road
Beginning at Artist Road and Hyde Park Road, one has many options to hike and explore the great outdoors. Located just 2.7 miles up Hyde Park Road you will come to the Sierra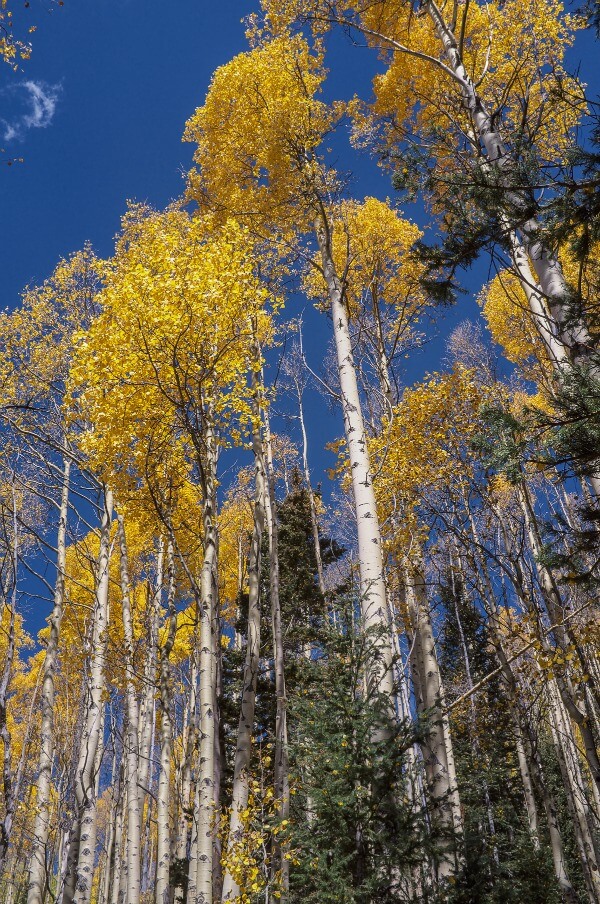 del Norte portion of the Dale Ball Trail System. This elaborate network of trails contains over 22 miles of hiking and mountain biking routes. Due to the number of interconnected paths of varying skill levels, the Dale Ball Trails are accommodating to everyone.
As you continue your way up Hyde Park Road, you'll next come to the Chamisa Trail.   This fairly easy trail is 5 miles round-trip and winds through an evergreen forest ending at a grassy meadow beside Tesuque Creek. September is a particularly perfect time to view the mass expanses of wildflowers in the area. Several birds, including hawks, ravens, and hummingbirds, are also commonly seen along this trail.
After the Chamisa Trail, you'll enter the Santa Fe National Forest and Hyde Memorial State Park. The hikes included in this area are the Hyde Park Circle, Borrego, and Bear Wallow Trails. These routes mostly feature fir, aspen, and ponderosa pine forests. Notably, in addition to hiking, Hyde Park also has several places for picnics.
Once you drive out of Hyde Park, you'll come to one of the most popular trails, especially in the autumn – the Aspen Vista. Here is where you'll truly be engulfed in the beauty of the aspen trees that turn bright golden in late September and early October. As you continue you're drive towards the ski basin there are some incredible overlooks. These scenic spots offer great photo opportunities.
Hyde Park Road ends at the Santa Fe Ski Basin. By now you have climbed nearly 5,000 feet in elevation! There are several more hikes that branch out from here. Many of these trails require either a full day to hike or a higher degree of skill. The high altitude requires that you bring plenty of water and sunscreen. As you begin your descent down the mountains and into town, be sure to enjoy the beautiful views of Santa Fe!
Sangre de Cristo Mountains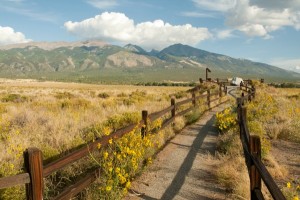 Surrounding Santa Fe is a diverse collection of hikes unequaled by any other area of the state. Access to the 12,000 foot peaks of the Sangre de Cristo Mountains, the canyons and caldera of the Jemez Mountains, and the arid, high-altitude desert landscapes south of the city are all accessible within a one-hour drive of Santa Fe. Nationally designated wilderness areas, including the Santa Fe National Forest with over a million and a half acres of land, circle the city. Five of the seven life zones can also be found within an hour of Santa Fe, providing abundant diverse plant and animal species. Spectacular geological variation, open space, turquoise skies, and over 300 days of sunshine simply add to the allure. All of these natural amenities along with quick altitude changes resulting in mild micro-climates allow for year-round hiking.
One of our favorite hikes is the Canyon Trail at Kasha-Katuwe Tent Rocks National Monument. There's a fascinating slot canyon that opens into spectacular tent-like pinnacles. As the trail climbs into switchbacks, you'll arrive at the ridge where stunning 360-degree views await. This year-round destination is only 45 minutes south of Santa Fe. Hiking time is approximately 2 hours and is rated "easy" by The Sierra Club. During the summer months, we recommend arriving early in the morning to beat the crowd and the heat.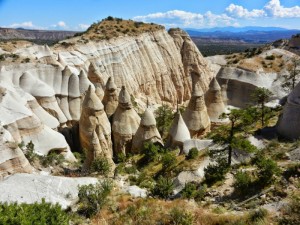 Trailheads for the Dale Ball and Dorothy Stuart Trail Systems are a simply 5-minute drive from Downtown. These extensive urban trails through the Santa Fe foothills are perfect for when you need a quick, easy hike, especially around sunset. You'll enjoy beautiful city and mountain views at an elevation of 7,000 to 7,500 feet – ideal for biking as well as hiking.
One of the most exceptional autumn hikes in the Santa Fe area is Aspen Vista Trail at 10,000 feet in the Sangre de Cristo Mountains, about 20 minutes driving
from downtown. This hike ranges from easy to strenuous, taking the trail through a huge aspen forest, spectacular in fall, but beautiful any time of year. It is possible to take the entire trail, crossing canyon creeks cutting through towering fir and spruce forest, to Tesuque Peak, elevation 12,040 feet.
Atalaya Mountain Trail is one of the closest trails in town, about 5 minutes driving. It's popular for its proximity, easy to moderate hiking, and spectacular city and valley views. This year-round trail is best hiked during the weekend and early in the day during summer, though much of the trail it shaded, it still gets hot.
For a true alpine experience, with open meadows filled with wildflowers, meandering mountain brooks, conifer forest, and basalt pinnacles, my favorite trail is the East Fork Trail in the Jemez Mountains. Frequently, rock climbers are practicing their skills climbing the basalt pinnacles at the beginning of the hike. I like this trail for its breathtaking beauty, sound of water, and minor elevation change. An hour driving time from Santa Fe that takes you through the spectacular Valle Grande National Preserve is all it takes to reach this exceptional experience. Cave Creek Trail, near the town of Pecos, about 45 minutes driving from Santa Fe, is a fascinating lesser-known hike in the beautiful Sangre de Cristo Mountains. The trail runs along Panchuela Creek, water running into cracks in the limestone creating interesting caves to explore. This is an easy hike, but the trail meets up with more strenuous hiking trails to Horsethief Meadow and Lake Johnson.
For a great strenuous hike during summer months, Lake Katherine Trail is well worth the effort. Within 30 minutes driving, the trail climbs through forests of spruce, fir, and aspen into The Peco Wilderness, where dramatic views and vast vistas seem to be around every corner. Lake Katherine sits at 11,742 feet, in a high altitude bowl with Santa Fe Baldy right behind. Caution should be taken in summer during times of thunderstorms to avoid frequent lightning strikes.
This is only the surface of the tremendous hiking opportunities around Santa Fe. When out enjoying our sunny days and turquoise skies, it's important to carry plenty of water, a fire source, and a cell phone. Also be cautious of wild animals such as bears, mountain lions, and rattlesnakes. Respect them and leave them undisturbed as you enjoy all the wondrous terrain Santa Fe has to offer.
Tent Rocks National Monument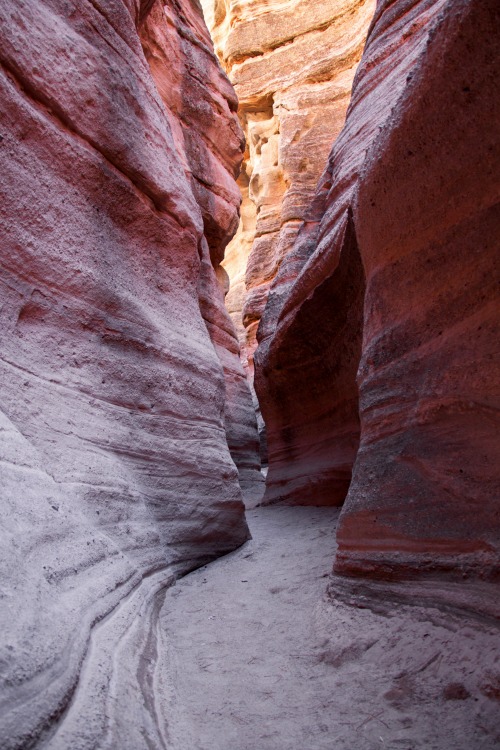 Tent Rocks National Monument is not to be missed. Located just under an hour west of our luxurious Santa Fe Bed and Breakfast, visiting Tent Rocks National Monument is a great way to spend a day under the Santa Fe sun. If you're ready to breath in the cleanest air around, then book your vacation with us now, and don't miss this beautiful National Monument.
Kasha-Katuwe Tent Rocks National Monument was established as a National Monument in 2001, and is a remarkable place to observe, study, and experience the geologic processes that shape natural landscapes. The area owes its remarkable geology to layers of volcanic rock and ash deposited 6 to 7 million years ago. These deposits, over 1,000 ft. thick, have been slowly eroded over time by wind and water, leaving the stunning monument as it exists today. These beautiful Tent Rocks range in height from a few feet to over 90 feet tall. Historically, the region surrounding Tent Rocks National Monument has been occupied by Pueblos; Kasha-Katuwe even means "white cliffs" in the traditional Keresan Pueblo language.
Tent Rocks National Monument sits on the Pajarito Plateau, and is home to a national recreation trail for outdoor enthusiasts to enjoy. This trail is a footpath only, and can be used for hiking, bird watching, geologic observation and plant identification. The easier Cave Loop Trail is 1.2 miles long, leaving from the parking lot at Tent Rocks National Monument. If you're up for a more challenging hike, then consider the Canyon Trail, which is a 1.5-mile, one-way trek into a narrow canyon with a steep (630-ft) climb to the mesa top for excellent views of the Sangre de Cristo, Jemez, Sandia mountains and the Rio Grande Valley. If you'd like to camp in the area, then head over to the Cochiti Lake Recreation Area. Once you're done exploring this spectacular National Monument, come back to our beautiful Santa Fe bed and breakfast to rest up for another day of Santa Fe adventures.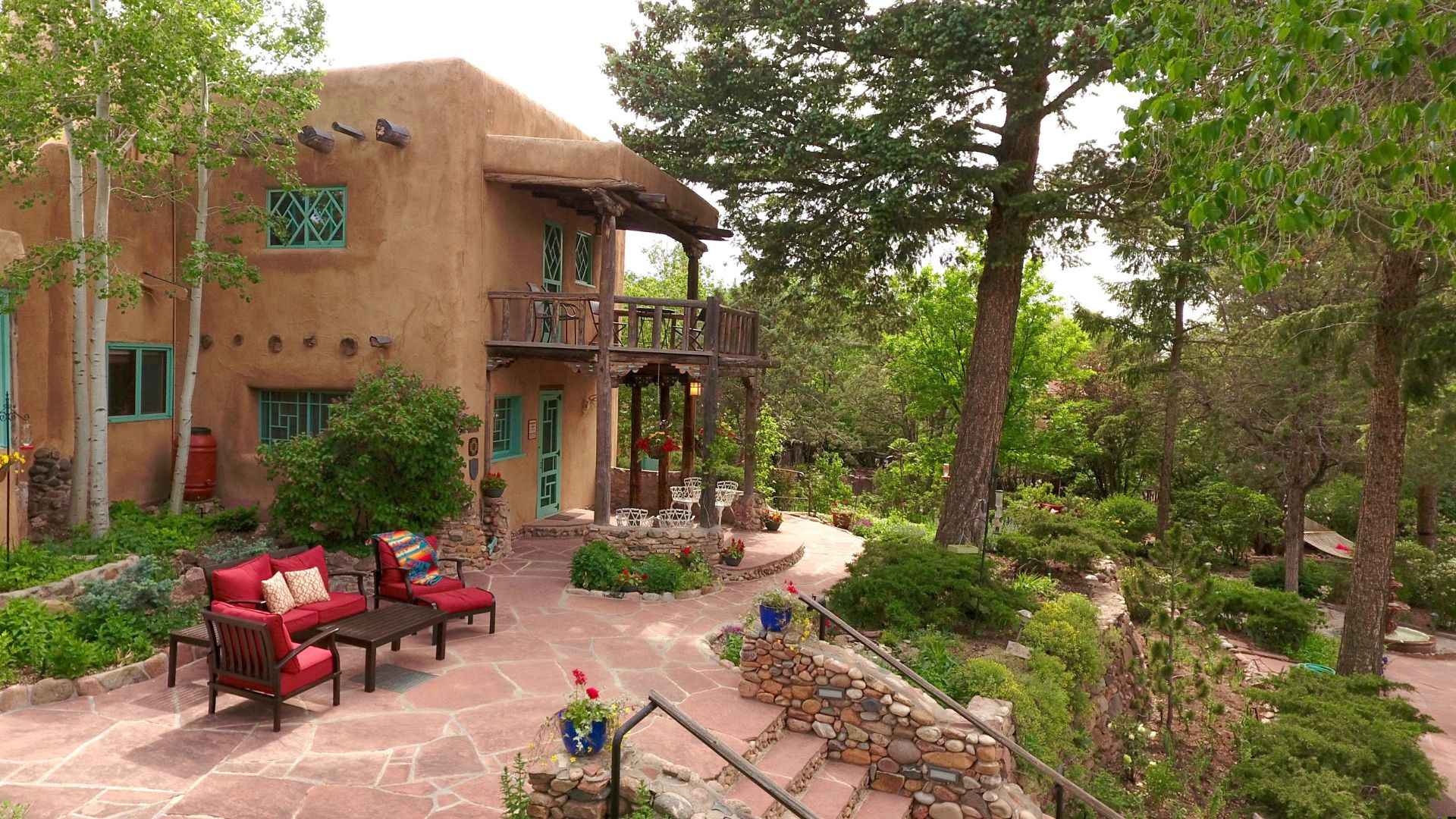 Hiking Packages at Inn of the Turquoise Bear
When you stay at our award-winning Santa Fe inn, take advantage of our hiking packages. Our Bear Trekking Package is suitable for all-day hikes, while our Explorer Package will sustain you for shorter explorations. Learn more
Lodging for Your Santa Fe Vacation
Book your stay at Inn of the Turquoise Bear for the ultimate vacation hiking in and around Santa Fe, New Mexico. You'll be treated to luxurious amenities, including a delicious multi-course breakfast before hitting the trails! After a long hike in the Santa Fe sun, find your way back to your comfortable room to cool down or warm up. If you're planning a stay for a romantic occasion, try our Witter Bynner room with a private spa shower bath. No matter which room you choose, you will soon feel refreshed and relaxed. We offer a complimentary wine hour in the evenings, and a truly authentic Southwest experience!