If you're interested in exploring the exquisite New Mexico landscape, a leisurely drive from Santa Fe to Taos is the perfect place to start. Take in fantastic views of the Sangre de Cristo mountains, visit breathtaking historic sites, and explore a fascinating mountain town. Here are 5 scenic stops on the way to Taos from Santa Fe, NM.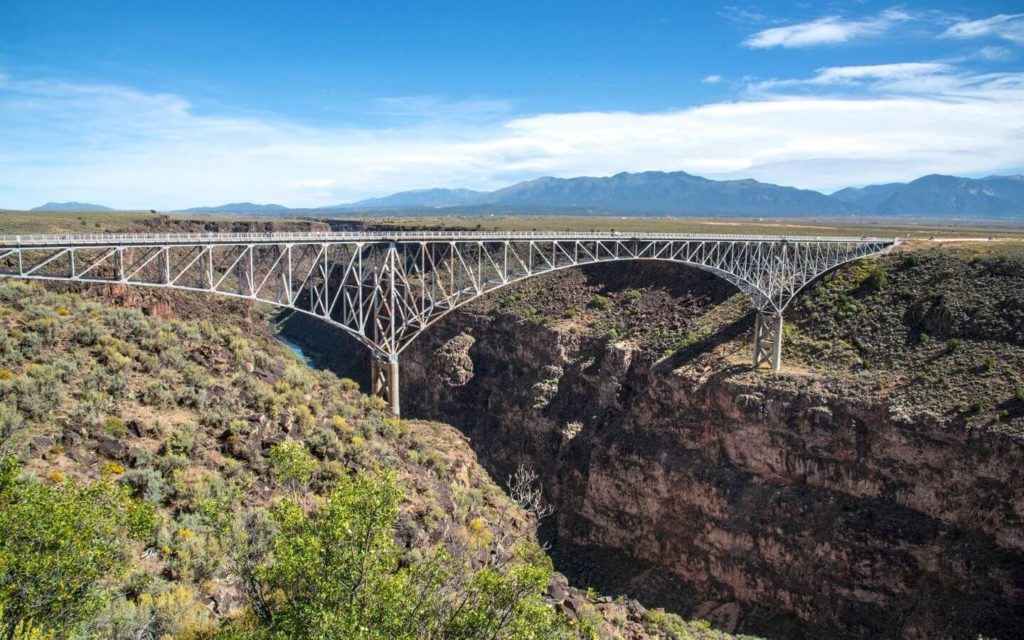 Planning your Route
When planning your route, we suggest taking the High Road to Taos and the Low Road back to Santa Fe. Cell service can get spotty, but we can get you set up with a map for your journey. There are plenty of interesting roadside stops and scenic overlooks along the way, so make sure you give yourself ample time to stop and enjoy your journey.
#1 – San Francisco de Asis Church
Our first recommended destination is the San Francisco de Asis Church in Rancho de Taos, just 4 miles outside of Taos. This historic religious site dates back to the early 19th century, and in the 1930s it became a favorite subject of the legendary artists, Georgia O'Keefe and Ansel Adams. After enjoying the architecture of San Francisco de Asis, take some time to explore the shops and galleries around Rancho De Taos before you get back on the road.
#2 – The Town of Taos
Next, you'll find yourself cruising into the charming town of Taos. Brimming with incredible art galleries and unique storefronts, you'll have a ball meandering down the sidewalks. We suggest making time to visit the Taos Art Museum, which features an impressive variety of permanent and rotating exhibits for your viewing pleasure. Of course, you'll want to stop for a meal, and while Taos has plenty of dining options to choose from, the locally sourced dishes at Lambert's Restaurant and Bar are hard to pass up. If you'd like to do a little shopping while you're in town, the John Dunn shops in the historic district offer everything from clothing and jewelry to gifts, folk art, fabrics, and housewares.
#3 – Taos Pueblo
Just north of town you'll find the Taos Pueblo, home to a community of Indigenous Puebloan people. This pueblo is one of the oldest continually inhabited communities in the country, dating back approximately 1000 years. While visitors are often welcome to visit the pueblo it is tribal land, so we urge all members of the public to check their website for events or restrictions before attempting to visit.
#4 – Rio Grande Gorge Bridge
About 10 miles from Taos you'll find the famous Rio Grande Gorge Bridge. This is the tenth highest bridge in the country and the second highest on the U.S Highway System. We guarantee the view from this steel wonder will take your breath away. The bridge is equipped with pedestrian walkways, so feel free to park your car and enjoy the scenery on foot.  On the west side of the bridge, there is a welcome center. Here, you'll find the trail head to a wonderful hike along the west side of the gorge. There are magnificent views of the bridge with Taos mountain in the background. Also, be on the lookout for long-horn mountain sheep that call the gorge their home.
#5 – The Low Road
When you're ready to return to Santa Fe, follow the Low Road along the Rio Grande, the most direct route between Taos and Santa Fe. Winding along the Rio Grande through a narrow canyon, you'll enjoy more incredible views. Along the way, stop and visit La Vista Verde Trail in Pilar, wineries for tastings, and many artist studios. We can help you prioritize stops perfect for you.
These are just 5 scenic stops on the way to Taos from Santa Fe NM. There are many more. In fact, Taos is just one of a plethora of road trips to enjoy on your next visit to Santa Fe! If you're ready to start planning a Southwestern adventure, book your room at Inn of the Turquoise Bear now. You will love our historic adobe estate, colorful gardens, Kiva fireplaces, and multi-course gourmet breakfast every morning.