There is something magical about a blue sky and sunny day in the wintertime. The air is crisp and everything snow-covered simply sparkles in the sunlight. If you're a winter outdoor enthusiast, you'll find ample opportunities to get out to enjoy the season around Santa Fe. Just imagine enjoying these 4 exciting outdoor winter activities in Santa Fe, NM.
Downhill Skiing
Ski Santa Fe – This fun ski area sits at a base elevation of 10,350 feet and offers 86 runs with a 1725 feet vertical drop. Regardless of your experience level, you'll find runs to suit you; 20% beginner, 40% intermediate, and 40% expert. Check out the Trail Map to see what's in store for you.
Pajarito Mountain Ski Area – Like Ski Santa Fe, Pajarito offers perfect conditions for a fun day on the slopes. The base elevation is 9,000 feet and reaches up to the summit of 10,440 feet. Featuring 750 acres of terrain with great bump skiing and short lift lines, their diverse layout of runs presents skiers of various skill levels the opportunity for a great day of skiing.  Take a peek at the aerial view of the area.
Cross-Country Skiing
Pajarito Nordic Ski Trail – You'll be thrilled when you wind through this aspen forest, slicing forward on top of a carpet of snow. Experience an exhilarating day of cross-country skiing amidst nature's bounty.
Aspen Vista Trail – This favorite summer hiking trail doubles as an excellent cross-country skiing trail in winter. In addition to skiing, you'll enjoy nature, stunning views, and always the potential to spot wildlife. Plus, as you stay on course, the trail will guide you up a gradual climb to give you a mild workout for your outing.
Snowshoeing
In addition to skiing, the two trails mentioned above also serve as trails for snowshoeing. Snowshoeing is an excellent low-impact aerobic exercise for people of all ages and abilities. And it's easy to do!
Winter Hiking
For those of you who prefer boots to skis or snowshoes, we have you covered. Plus, winter hiking is a unique experience. When snow covers the ground and trees, the sounds are muffled and the landscape is a quiet, offering a soothing relief from a hustle-bustle world. The aroma of pine becomes more intense and the feel of the air on your skin is invigorating. And an added bonus is – there are no bugs.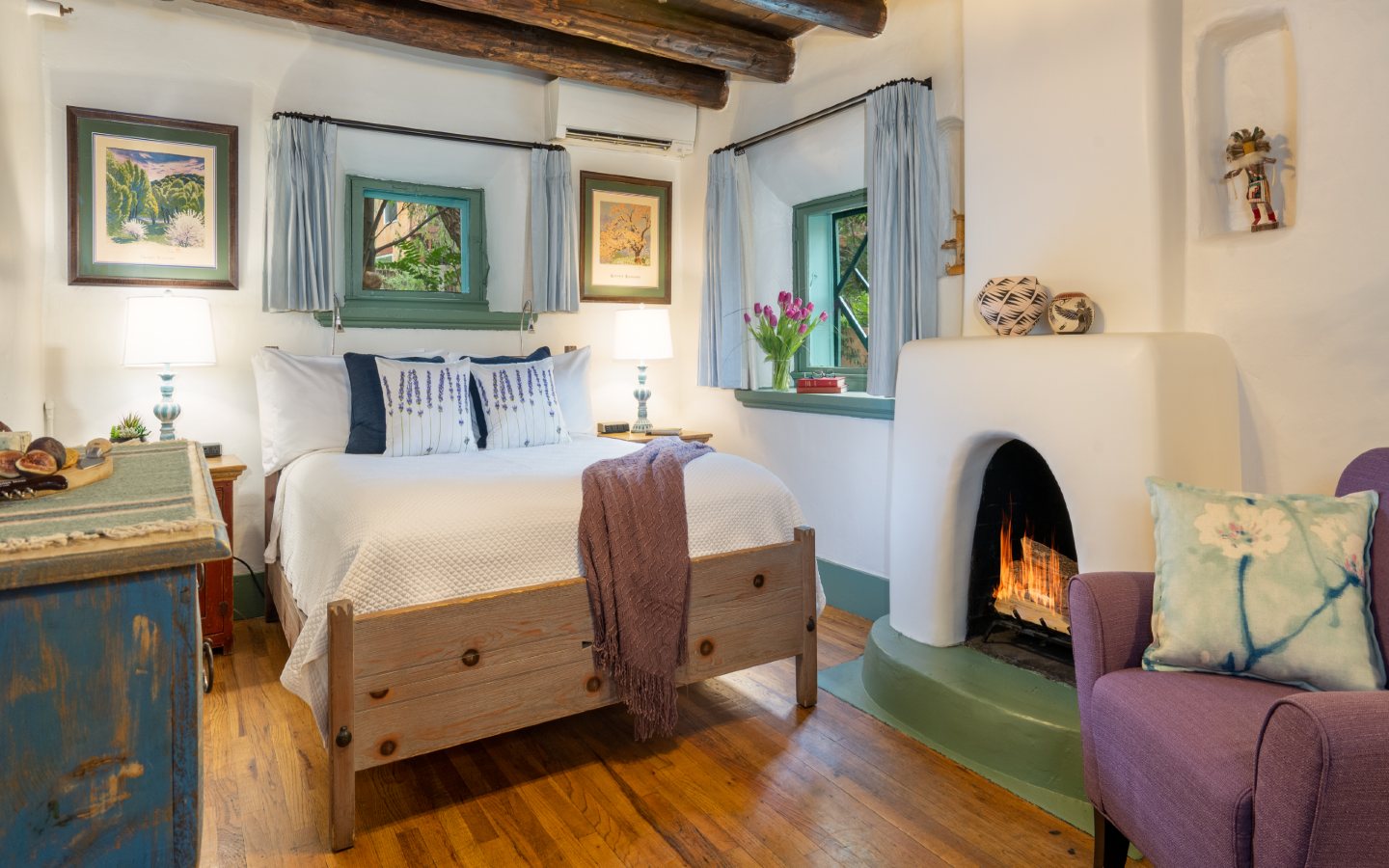 Relax at The Bear
In Santa Fe, you'll find yourself immersed in nature at its finest – the forest, mountains, wildlife and birds. And at the end of the day, when you're tired and satisfied, you can return to our Inn at the Turquoise Bear to relax, sip your favorite beverage, and enjoy the warmth and coziness of your guest room. Book Now.