Santa Fe, "Town of Holy Faith", is a colorful, authentic, and magical place to experience in all seasons of the year. Marvel at the unspoiled beauty of our San de Christo mountain vistas, experience our legendary history & native culture and be inspired in our art galleries and museums showcasing both ancient traditional methods and the contemporary and edgy.
Enjoy world class dining, shopping, hiking, mountain biking, skiing, experiential day trips, and colorful local markets and festivals. The Spanish Colonial charm of "The City Different" has been enchanting travelers for over 400 years. Come & be enchanted!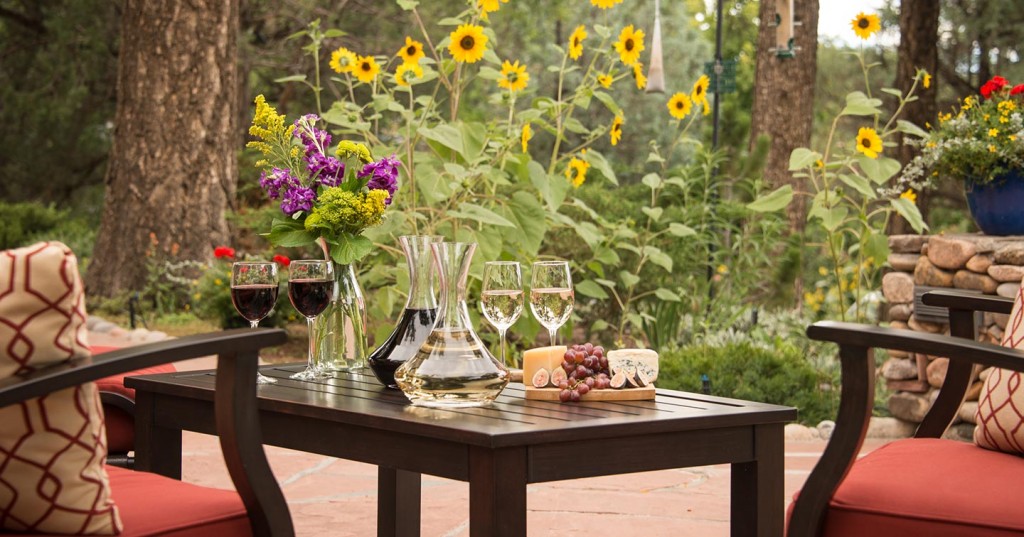 Discover the top things to do in Santa Fe, New Mexico!
Overflowing with History, Santa Fe, established in 1610, is one of the oldest settlements in America. From its rich history and the wonderful activities, there is much to do in and around Santa Fe.
ATTRACTIONS & SIGHTSEEING
From renowned art markets to beautiful cathedrals, Santa Fe's attractions deliver unique and unforgettable experiences, as well as world-class shopping. Plan your next visit to our historic bed and breakfast in Santa Fe and check out these top attractions in Santa Fe you won't want to miss!
Read more...
TOP DINING EXPERIENCES
Picking the "Best restaurants in Santa Fe" is like asking a mother to name her most loved child….impossible! This a foodie's dream town, so we are excited to share with you some of our favorites to help you plan your next visit to our Santa Fe bed and breakfast.
Read more …
SANTA FE ARTS & CULTURE
Santa Fe is known to be the third largest art market in the United States, with a variety of art festivals throughout the year, as well many museum-quality galleries throughout the city. Being somewhat new to the Santa Fe art scene, I have solicited guests to help us with recommendations for best art galleries in Santa Fe.
Read more...
OUTDOOR RECREATION
Santa Fe offers visitors endless opportunities for outdoor recreation year around. A true winter wonderland, the nearby mountains offer snowshoeing, cross country skiing, and downhill skiing at the Ski Santa Fe Resort, which made Condé Nast Traveler list of most underrated ski resorts.  During the warmer months enjoy biking, horseback riding, rafting, or even a romantic hot air balloon ride over the valley. Spring, summer, fall and even winter provides perfect days to hike the outdoors.
Read more...
EVENTS & FESTIVALS
See upcoming Santa Fe events and festivals and plan your next visit. Our event calendar highlights some of our favorite cultural events, music festivals, fiestas, theater performances and art fairs throughout the year.
Read more...
Day Trips from Santa Fe