West to Los Alamos and the Jemez Mountains
This day trip heading west of Santa Fe into the Jemez Mountains provides ample stunning vistas as it winds through Native American lands, ruins of an ancient civilization, the birthplace of the atomic age, and one of the world's largest dormant volcanoes.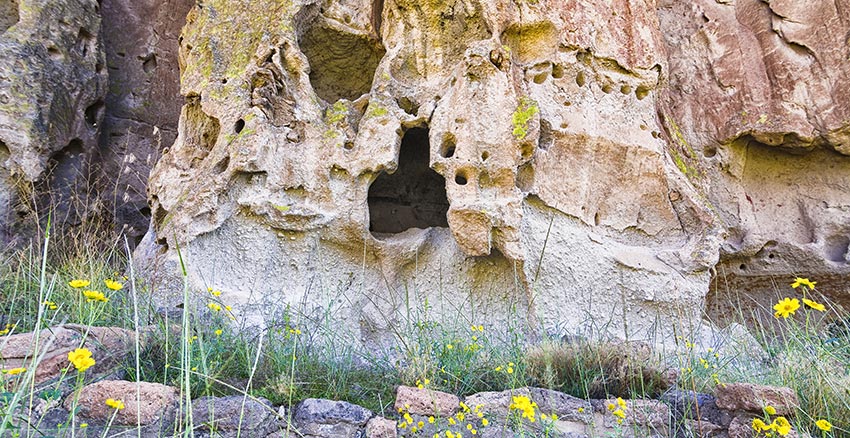 Ancient living quarters at Bandelier National Monument's Frijoles Canyon
San Ildefonso Pueblo
Located 23 miles north of Santa Fe, the San Ildefonso Pueblo (San Ill-day-fon-so) has a flourishing art community.  San Ildefonso is one of the best known New Mexico Pueblos because of the famous black-on-black pottery which originated there and which was revived in the nineteen-twenties by Maria Martinez. There are also painters, jewelry makers, weavers, carvers, seamstresses, and moccasin makers at the Pueblo who open their homes to the public for shopping.
Bandelier National Monument & Tsankawi
Bandelier National Monument protects over 33,000 acres of rugged but beautiful canyon and mesa country as well as evidence of a human presence here going back over 11,000 years. Petroglyphs, dwellings carved into the soft rock cliffs, and standing masonry walls pay tribute to the early days of a culture that still survives in the surrounding communities.
Frijoles Canyon contains a number of ancestral pueblo homes, kivas (ceremonial structures), rock paintings, and petroglyphs. Some of the dwellings were rock structures built on the canyon floor; others were cavates produced by voids in the volcanic tuff of the canyon wall and carved out further by humans.  A 1.2-mile, predominantly paved, "Main Loop Trail" from the visitor center affords easy access to these features. A trail extending beyond this loop leads to Alcove House, a shelter cave produced by erosion of the soft rock and containing a small, reconstructed kiva that hikers may enter via ladder.
Tsankawi is a detached portion of Bandelier National Monument in New Mexico, near White Rock. It is accessible from a roadside parking area just north of the intersection of East Jemez Road and NM 4 just before the entrance to Bandelier National Monument.  A self-guided 1.5-mile loop trail provides access to numerous unexcavated ruins, caves carved into soft tuff, and petroglyphs. A trail guide, available at the entrance, provides a detailed description of the area.
Los Alamos
Bradbury Science Museum
Operated by Los Alamos National Laboratory, this science museum has over 40 interactive exhibits tracing the history of the WWII Manhattan Project, and highlighting the Laboratory's current and historic research projects. Recent additions to the museum's collections are exhibits about the history of supercomputers, the Los Alamos Neutron Science Center, Los Alamos' contributions to the Mars Science Laboratory (Curiosity) rover, nanotechnology, algae biofuels, and high explosives.
New Mexico Wildfire Burn Scars
Traveling on NM 501/502 & NM 4 in the areas of Bandelier and Los Alamos you will see the scared remains of lush pine tree forests in various stages of re-generation. These burn scars mark the paths of the Las Conchas fire in 2011, Cerro Grande Fire in 2000, Dome Fire in 1996, and La Mesa fire in 1977.
Valle Caldera
The Valles Caldera (or Jemez Caldera) is a 14 mile wide collapsed volcanic caldera in the Jemez Mountains creating a lush meadow in the middle. Valles Caldera National Preserve, a unit of the National Park System, is an 89,000 acre classroom. See wildlife, mountain range vistas, and native grasses providing a sense of solitude leaving you refreshed and relaxed. The Preserve is open to the public, but you will feel like you have the place to yourself. The Caldera National Preserve is located 15 miles west of Los Alamos on NM 4.
Jemez Springs
Continuing South on NM 4 you travel along the Jemez Mountains to the charming town of Jemez Springs. The stunning red rock mesas of the Jemez Mountains provide a splendid backdrop to the natural mineral hot springs in the area giving the village its name.   The area's unique geologic history offers a rich variety of opportunities — miles of scenic views, hiking trails, campgrounds, and fishing spots all along the Jemez River or a soak and massage in local a spa. The village offers shops, casual dining, and artist galleries to delight visitors.