Elopements and micro weddings are becoming more popular every year. Why? Because couples can experience a romantic and luxurious wedding day without the extensive cost and time needed for an extravagant event. Are you in the process of planning your special day? Save time and minimize stress at one of the best New Mexico wedding venues. Whether you're looking for an elegant spot to elope or need a festive space to celebrate with your closest family and friends, Inn of the Turquoise Bear is the perfect destination to say "I do!" Keep reading to learn more about our romantic venue for intimate weddings and elopements in Santa Fe, NM.
Historic Wedding Venue
Our historic adobe estate has been carefully restored to its full glory, and the classic Southwestern architecture will add a memorable and unique flair to your wedding day. We offer a variety of on-site ceremony locations for you to choose from. Declare your commitment in our lush terraced gardens beneath the ever-present Santa Fe sunshine. Opt for a cozy vow exchange beside the wood-burning kiva fireplace inside our historic estate. Celebrate with a twilight reception against the breathtaking backdrop of the Sangre de Cristo Mountains. The options are truly unique.
Attentive Wedding Staff
Whether you're seeking a traditional religious ceremony or a heart-felt vow exchange, our on-site officiant will work with you to create a beautiful custom ceremony. While preparing for your celebration and honeymoon, our concierge will be available to assist you every step of the way. Sit back and relax while we take care of your dining reservations, activity planning, and itinerary!
Romantic Wedding Packages
Elopements at Inn of the Turquoise Bear are perfect for couples planning to recite their vows with one or two witnesses in tow. Wedding packages include everything from bridal bouquets to petite wedding cakes, or even a sparkling cider reception. These ceremonies are also an excellent choice for married couples seeking a romantic vow renewal. All you have to do is book at least 2 consecutive nights online or by calling the Inn.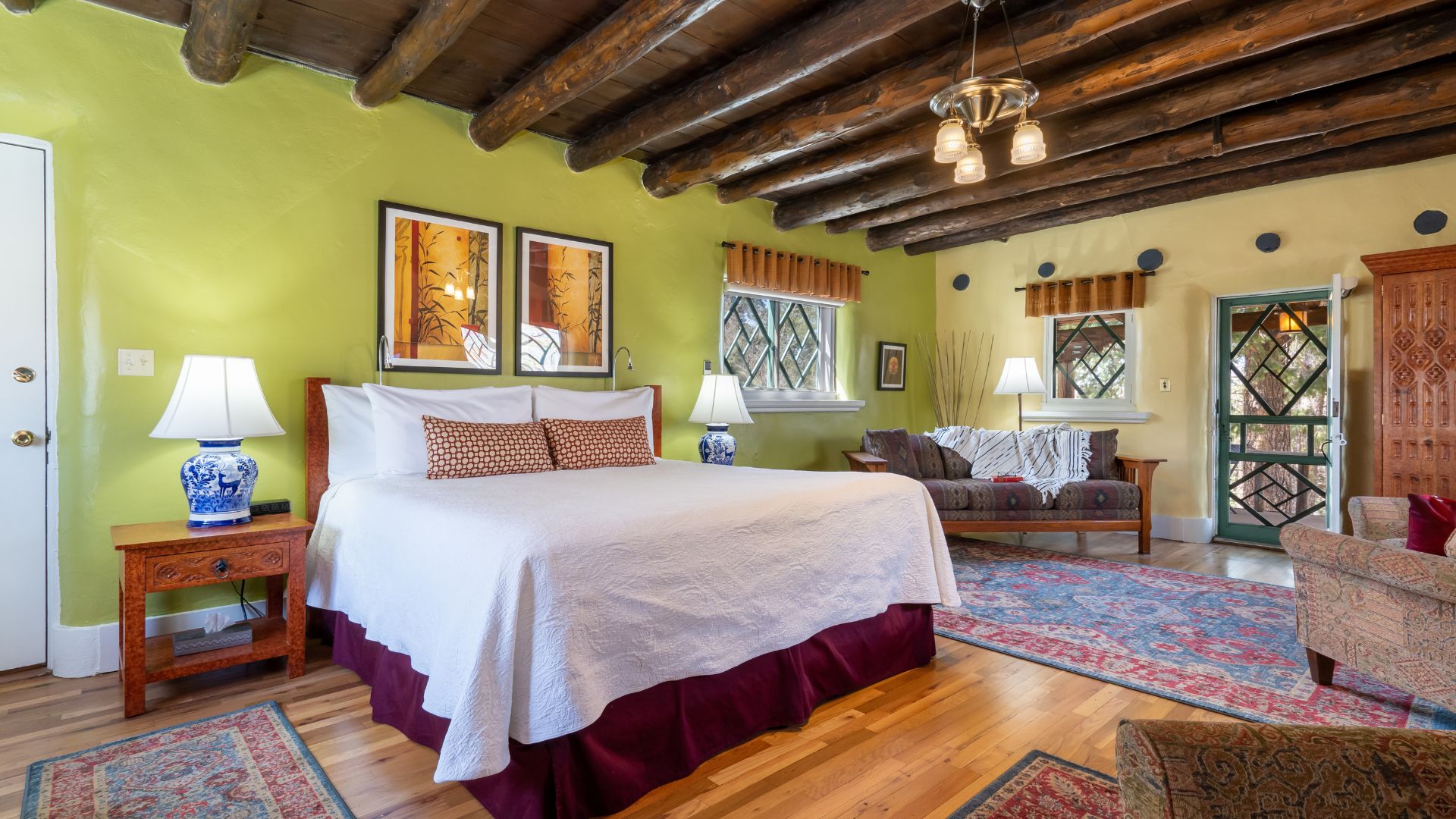 Cozy Guest Rooms
We offer nine unique and comfortable guest rooms from which to choose. If you're planning a celebration with your closest loved ones, consider booking all 9 guest rooms for an Intimate Wedding. Our estate can house up to 20 guests, and your party will have access to all of our on-site amenities. You and your guests can wake up to a gourmet breakfast every morning, relax together beside our authentic Kiva fireplaces, and discover endless entertainment around the corner in downtown Santa Fe. Intimate Weddings require a whole house rental, as well as a three-night minimum stay.
If a private elopement for two is more your style, then book your favorite guest room where you can cuddle up and celebrate your momentous day.
If you're interested in a property tour, or you're ready to start planning your ceremony, call us at (505) 983-0798. We can't wait to customize a fairy tale beginning to your happily ever after with our intimate weddings elopements at Inn of the Turquoise Bear.