Whether you love fine wine, craft beer, satisfying spirits, or creative cocktails, Santa Fe is the place to be. During your next visit or overnight stay, try one or more of these 7 best places to drink in Santa Fe. You will not be disappointed! We curated this list based on staff favorites and recommendations from our experienced Innkeepers here at Inn of the Turquoise Bear.
You've come to the right place for a list of breweries, bars, tasting rooms, pubs, and lounges in the Santa Fe area. Read on to learn more about where to drink in Santa Fe, which drinks we love the most, and all of the delicious food perfect for pairing while you're there!
1. Santa Fe Brewing Co.
New Mexico's original craft brewery and Santa Fe's largest brewer with multiple locations, Santa Fe Brewing Co. is one of the best breweries in Santa Fe. What's more, their newest Tap Room location, dubbed "The Brakeroom," is an easy 10-minute walk from the Inn. Personally, we're partial to their Nut Brown Ale, Freestyle Pilsner, and seasonal Adobe Igloo and Oktoberfest. However, if you're looking for something a little different, sample their Los Innovadores barrel-aged sours. Be sure to try at least one if not both of their Santa Fe locations:
The Brakeroom
The Brakeroom is housed in an old cabin where railroad brakemen used to sleep. This cozy, historic building in downtown Santa Fe features 18 tap handles, cider and wine as well as indoor and outdoor (heated) seating. What's more, food trucks park here nightly.
Located at 510 Galisteo St, Santa Fe, NM 87501
The Beer Hall at HQ
Just imagine… Historic Santa Fe, majestic mountain scenery, a lush green landscape, and 27 taps of beer, cider, and wine. You may be wondering, lush green in Santa Fe? That's right. Thanks to their earth-friendly irrigation system, their beer garden is the greenest place in Santa Fe!
Located at 35 Fire Pl, Santa Fe, NM 87508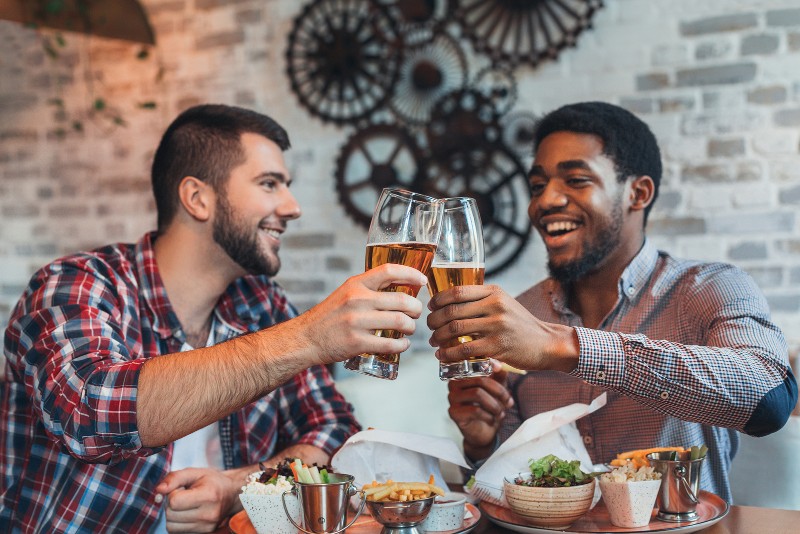 2. Second Street Brewery
Located in the Railyard District just a 10-minute walk from Santa Fe Brewing Co., is Second Street Brewery. This hub is home to our favorite beers in town! So much so, that it's actually a weekly ritual for Innkeeper Dan and his partner David to sit and sip for a spell.
Second Street is also a great place to grab something to eat or to nibble on small plates to prepare for your pub crawl. With fantastic self-brewed suds and food, as well as an ever-changing menu of beer on tap, we know you'll love it as much as we do.
We highly recommend:
Boneshaker
Rod's Best Bitter
2920 IPA
Salvation Stout.
And don't leave without trying their:
Brewpub Nachos
The Original Alien Burger
Smoke Portabella Wrap
Green Chile Mac & Cheese
Or simply get their fries! You won't regret it.
3. Santa Fe Spirits
If desert spirits are more your thing, then head to Santa Fe Spirits, just 5 minutes from Second Street Brewery. This relatively small distillery proudly produces award-winning spirits designed to capture the essence of the Southwest. Here, you will sample some of the most unusual yet premium desert spirits we've ever tasted. Offering products ranging from silver whisky to barrel-aged apple brandy, Santa Fe Spirits' focus is on its Colkegan Mesquite Smoked Single Malt Whiskey. Innkeeper Dan loves the Colkegan Single Malt Whiskey, while Alex digs the Expedition Vodka. Their tasting room is only a 10-minute walk from the Inn. This place is tasty, fun, and educational!
Located at 7505 Mallard Way Unit I, Santa Fe, NM 87507

4. Hervé Wine Bar
If you're inclined to sip a glass of fine wine instead, then you'll appreciate Hervé Wine Bar, about a 9-minute walk from Santa Fe Spirits. This wine bar in Santa Fe offers a relaxing lounge, comfortable dining area, and refreshing outdoor patio, as well as live music often. We recommend sipping on one of their D.H. Lescombes wines, while savoring the flavors of their Tuna Tartare, Nicoise Salad, or one of their decadent desserts! You simply cannot go wrong at this amazing wine bar. This wine bar is a 9-minute walk from Santa Fe Spirits.
Located at 139 W San Francisco St., Santa Fe, NM 87501 

5. Fire & Hops Gastropub
Yet another one of our favorite places to drink is located just 3 blocks from the Hervé Wine Bar. Fire & Hops Gastropub is the creation of two of our favorite young Santa Fe Chefs, Joel Coleman and Josh Johns. Offering exceptional dining and delicious beer in a casual setting, this is a nice spot to sample small plates and enjoy a beer.. They change their menu often, so we're hesitant to suggest anything specific, but we have to say that we love the pickle plate. And count yourself lucky if they're serving their Pork Spare Ribs with Gochujang BBQ or Ceviche. Yum! Chef Coleman also makes his own ice cream and our favorites are Green Chile, of course, and Chocolate Sea Salt. While they don't brew their own beer, they primarily feature New Mexico brews.
Located at 222 N. Guadalupe Street, Santa Fe, NM 87501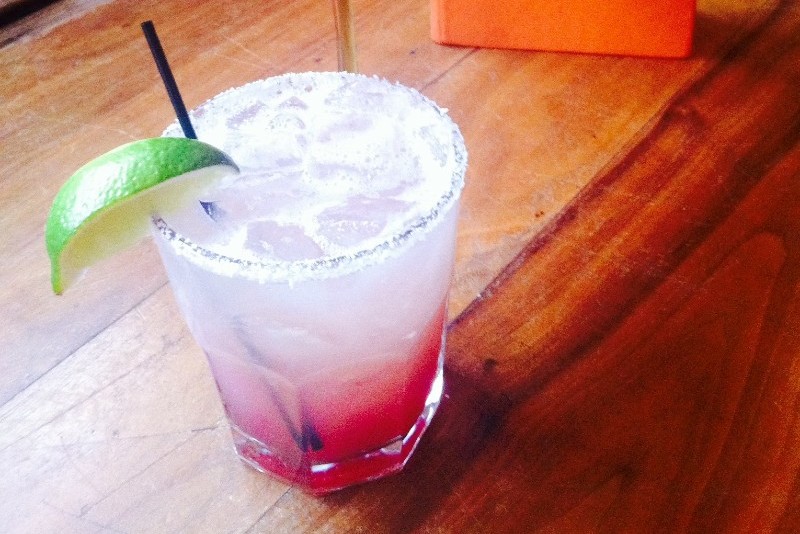 6. Dragon Room Lounge
On your way back to the Inn, stop about midway at Santa Fe's famous Dragon Room Lounge. Always filled with a fun crowd, this funky watering hole has been a local favorite for generations and is only a 10-minute walk to the Inn. With a Kiva fireplace and one of the best patios in town, it's a comfortable setting in all seasons. So no matter what month you choose to stay with us, you can soak up the true Santa Fe atmosphere, enjoy a strong drink and bowl of green chile stew. Yum!
Located at 406 Old Santa Fe Trail, Santa Fe, NM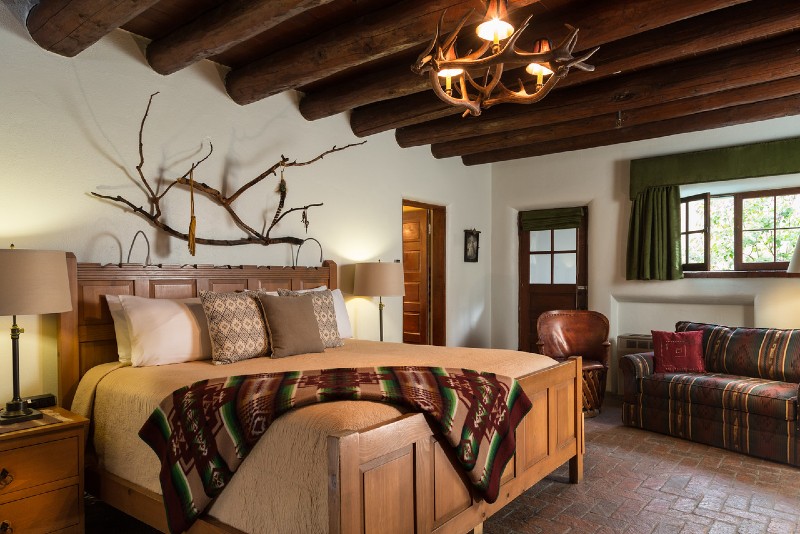 Cheers to You and Our #1 Ranked B&B
After a fun night out on the town, you can take comfort in knowing that you'll have a comfortable room waiting for you. Lay your head down on your choice of a king or queen bed made up with luxury linens for a good night's rest! Your new home away from home comes fully equipped with only the most thoughtful of amenities and top-notch service. Plus, we'll have a multi-course gourmet breakfast ready each morning plus afternoon tea – all included in your room rate!