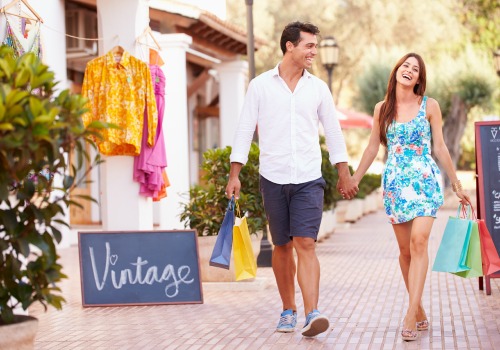 How's the shopping in Santa Fe? The best in the country some say, even topping New York and Chicago! No surprise to us that Santa Fe recently topped the list of "Best U.S. City for Shopping" as voted by readers of USA Today. (We put a lot of stock in their ranking as the Bear was recently included in their list of top Santa Fe B&Bs!)
Inside Tip: Do you enjoy shopping in the winter with a cup of coffee, hand in hand? Visit these wonderful shops and save with our low winter rates! Use that money you saved for some special Santa Fe purchases.
Here are our top picks for shopping in The City Different…
Casa Nova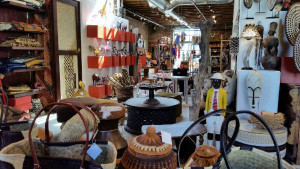 Walk into Casa Nova by Natalie and you'll find yourself in a colorful world-market. When Casa Nova opened owner Natalie Fitz-Gerald focused on African art. Natalie hails from South Africa and wanted to bring antique and new art from her home continent to Santa Fe. Over the last 10 years the shop has evolved and the inventory comes from around the world and is much more eclectic. Shoppers will find bedding, ceramics & tableware, furniture, decorative cushions, wild & wonderful home accessories, jewelry, and world-class African art. Casa Nova, located in the Guadalupe District near the Railyard, is considered by locals, to be one of the best places for unique gifts, and a "must stop" to bring their out of town guests. 530 S Guadalupe Street. casanovagallery.com
Native American Vendors Program of the Palace of the Governors
Every day dozens of Native American artists from around Santa Fe sell their work under the long portal that fronts the Palace of the Governors. You'll see them there come rain, snow, wind, or sun selling their original handcrafted jewelry, sand art, pottery, and other authentic traditional art. The Palace itself is the state's history museum and the oldest public building in the U.S. making it a perfect setting. You can stroll along under the portal simply perusing all of their art or have lengthy conversations with the artist about materials used, how it's crafted and symbolism of their pieces. If you see something you like, be sure to buy it as artisans are selected by lottery and the same artist may not be there the next day. This is an eighty year old tradition that includes approximately 1,000 artisans who are licensed to sell here after going through a strict application process to assure the authenticity of materials and quality of their work. 105 W Palace Avenue
Keshi – The Zuni Connection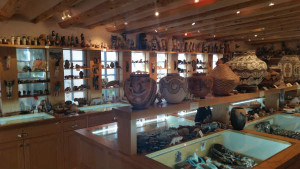 The Zuni Pueblo in western New Mexico is known for its distinctive handcrafts. Keshi is the place to go in Santa Fe for Zuni handcrafts. They're knowledgeable about both Zuni art and the people who create it. They've worked closely with the Pueblo since 1981. Originally a co-op, the inventory was consigned, but today it's privately owned and the shop purchases the art at prices set by the artists. With over 500 Pueblo artists represented at Keshi, the shop is packed with pieces representing the Zuni artistic tradition. The pueblo is known for fetishes (carvings of animals, primarily made from stone); fetish necklaces; inlay and petit point jewelry as well as contemporary pottery, paintings and Katsina dolls. Keshi is located just two blocks off the plaza at 227 Don Gaspar Avenue. keshi.com
Rainbow Man
Just steps from the Plaza, the Rainbow Man, has offered authentic Native American, Spanish Colonial, and Hispanic arts and crafts, since 1945. The shop is packed with antique, vintage and contemporary jewelry, vintage photography, and textiles including early Rio Grande, Chimayo, and Mexican weavings. The shop is known for its Pendleton blankets, a large selection of antique and vintage tribal jewelry and its collection of gold tone Native American photos from photographer Edward Curtis. New Mexican folk artists represented here include Tesuque wood-carvers Felipe & Leroy Archuleta and Ron Archuleta Rodriguez and painter Marie Cash, a leading authority on the Santero art tradition in New Mexico. The shop also has work from her son, Gregory Lomayesva, whose colorful wood carvings pay homage to his mother's Hispanic and father's Hopi ancestry. The building used to be a secret office of the Manhattan Project. Look for the historical marker in the rear courtyard of the building. 107 E. Palace Avenue. rainbowman.com
Teca Tu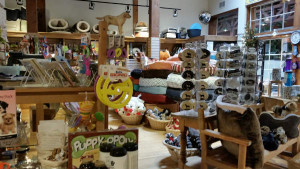 This plush pet boutique aptly sub-named "A Paws Worthy Emporium & Deli", is a must shop stop for any pet lover. Pamper your pet as you would yourself at this colorful emporium, which has won the Best of Santa Fe Top 3 award every year since 2004! Your pup will look spiffy in a silver concho collar, hand-knit alpaca sweater, or Vestido coat or vest, all part of Teca Tu's signature line of designer wear. Indulge your canine or feline with their own hand-painted bowl, fresh-baked treats and fun-filled toys. Or, sweeten their dreams with a comfy and unique bed. Take your four legged friend with you when shopping so they can enjoy fresh baked treats and browse the gourmet food selections. In the DeVargas Center, 165 Paseo De Peralta. tecatu.com
Museum of International Folk Art Shop / Museum of Indian Arts & Culture
The gift shops at Santa Fe's museums are great options for shopping. The two on Museum Hill operated by the Museum of New Mexico Foundation deserve special mention.
At the Museum of International Folk Art Shop, shoppers will find folk art from around the world. Accomplished artists from impoverished communities exhibit their art often from recycled and found materials. Colorful pottery, wall art, whimsical figurines, children's toys, nesting dolls, religious art, and clothing and textiles from around the globe fill the shop. Museum Hill, 706 Camino Lejo. internationalfolkart.org
The Colleen Cloney Duncan Museum Shop at the Museum of Indian Arts & Culture reflects the museum's collections and is a unique shopping experience. The shop provides visitors with a wide array of contemporary Native arts—ceramics, sculpture, textiles, stunning hand-crafted jewelry, kachina dolls, works on paper, and baskets—along with clothing and a wonderful collection of popular and scholarly books on native cultures. The shop is one of the very best spots in town to buy top quality Native American work and wonderful southwestern gifts. Museum Hill, 710 Camino Lejo. indianartsandculture.org
A purchase at these shops enhances the livelihood of artisans from New Mexico and around the world.
Doodlet's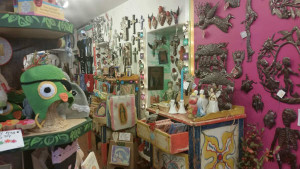 For more than 50 years, Doodlet's has been delighting everyone who steps through their door. This old time gift shop is crammed full of unusual gifts that will make any recipient smile! If you have someone that is hard to buy for, head to Doodlet's across the street from Café Pasqual's. This magical place is my Mom's favorite shop in Santa Fe. Filled with fun and whimsy, you'll get lost in the campy, retro, irreverent, and fun merchandise they stock. Here you'll find shiny pot-metal Milagros, gag gifts, wonderful and unique books, greeting cards, silly gags, old fashioned candies (do you remember Necco Wafers?), buttons, jewelry, and thoughtful Santa Fe treasures. A wonderful stop when you have stockings to stuff for the holidays! Don't miss it! 120 Don Gaspar just blocks off the Plaza.  Doodlets Website
Collected Works Bookstore & Coffeehouse
Books, remember those? If you love to read and like to read actual books, you'll love Collected Works Bookstore & Coffeehouse. Santa Fe's favorite independent bookstore since 1978 is located just a few blocks off the plaza. This general bookseller maintains a huge inventory of titles but specializes in Santa Fe &, New Mexico history, Native American history, pottery & crafts, New Mexican cooking, Santa Fe and New Mexico architecture & art, as well as local guide books & maps. Their cozy indoor and outdoor patio reading areas invite you to relax and enjoy their locally-roasted organic coffee, pastries, chocolates and light fare, and read to your heart's content or take a break from your shopping. Check out their website for unique events, author readings & signings, receptions and occasional acoustic music performances. There is always something interesting to experience at Collected Works! Located on the corner of Galisteo & Water Streets just a few blocks from the Plaza in an historic building, where the jailhouse known to have held the infamous Billie the Kid once stood. 202 Galisteo Street. collectedworksbookstore.com
Seret & Sons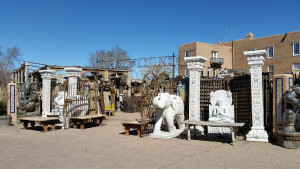 Feel like you've stepped into an Asian or Arabian bazaar at this warehouse style emporium of art and sculpture, overflowing with gorgeous Afghan rugs, Tibetan furniture, mirrors, pillows, and large architectural pieces. During their 15 years living in Afghanistan, the Serets developed a unique style of carpet, fabric, and furniture design becoming a top resource to designers such as Anne Klein, Oscar de la Renta, Angelo Donghia, and others. Need an impressive architectural element for your home or yard? How about a giant stone elephant or huge teak gate? Their back-yard is full of giant treasures waiting for a home. Getting such treasures to your home is easier said than done, but it's fun just to browse and dream also! Come browse, buy or dream on Santa Fe's own Silk Road. 224 Galisteo Street, seretandsons.org.
Santa Fe has been a trading post for nearly 1000 years as it was centrally located between the buffalo-hunting tribes of the Great Plains and the Indians of Mexico. After the arrival of the Spanish and the U.S. West's subsequent development, Santa Fe continued to be a key shopping destination on the Santa Fe Trail, one of the world's most historical and colorful trade routes. Today, the trading legacy remains strong. Santa Fe truly offers an exciting mix of shopping for both old and new.