Santa Fe, NM, is known for its artistic and cultural expression with multitudes of museums, culture, and historic architecture. One of the most significant historic buildings in Santa Fe is our 1800's adobe inn. Do yourself a favor by investing some time to discover our history gem. Here are 7 reasons to stay at Inn of the Turquoise Bear in Santa Fe.
#1 – Rambling Adobe Estate
Oftentimes, buildings of bygone years fall into disrepair. The Inn of the Turquoise Bear was no exception. However, in 1996, Ralph Bolton and Robert Frost restored the estate and turned it into a bed and breakfast. In doing so, they successfully retained the villa's authentic Northern New Mexico magic. Current owners, Dan Clark and David Solem, go to great lengths to preserve the inn's historic significance. You can even see slight reminders of the Chinese decoration that Bynner used to differentiate it from other buildings. That Asian touch is special, offering one more reason to book a stay.
#2 – Unique Location
The Inn is in one of America's oldest and most unique cities near the Old Santa Fe Trail. A short walk takes you to Santa Fe's historic plaza, The Palace of Governors (the oldest continually inhabited government building in the US), Georgia O'Keeffe Museum, and multiple other museums and other historic buildings. Despite our close proximity to town, our one-acre property nestled in nature provides a sense of seclusion. You'll experience ample opportunity to get away from everything and everyone to rest, relax, and renew.
#3 – Iconic History
If you're looking for artistic and cultural enrichment in Santa Fe, then you'll find it at The Inn of the Turquoise Bear. Built in the mid-1800s by Witter Bynner (American poet, writer, and scholar; 1881-1968), our beautiful two-story adobe Spanish-Pueblo is listed on the National Register of Historic Places. In fact, Bynner and the building played a significant role in the development of what Santa Fe is today.
This inn has a fascinating history. For example, the home had a notorious reputation for rowdy parties dubbed, "Bynner Bashes" by renowned black-and-white photographer, Ansel Adams. These parties were THE entertainment hub for Santa Fe's cultural elite and influential people. Party guests included Ansel Adams, Igor Stravinsky, Aldous Huxley, Errol Flynn, Rita Hayworth, Robert Oppenheimer, Georgia O'Keeffe, and many others.
Bynner was also a fascinating person, most notably for his concern and advocacy for human rights. The plight of Native Americans, women, and other minorities were at the forefront of his mind. As you learn about the man who created this building, you begin to see a picture of an intelligent, caring, and fun loving person.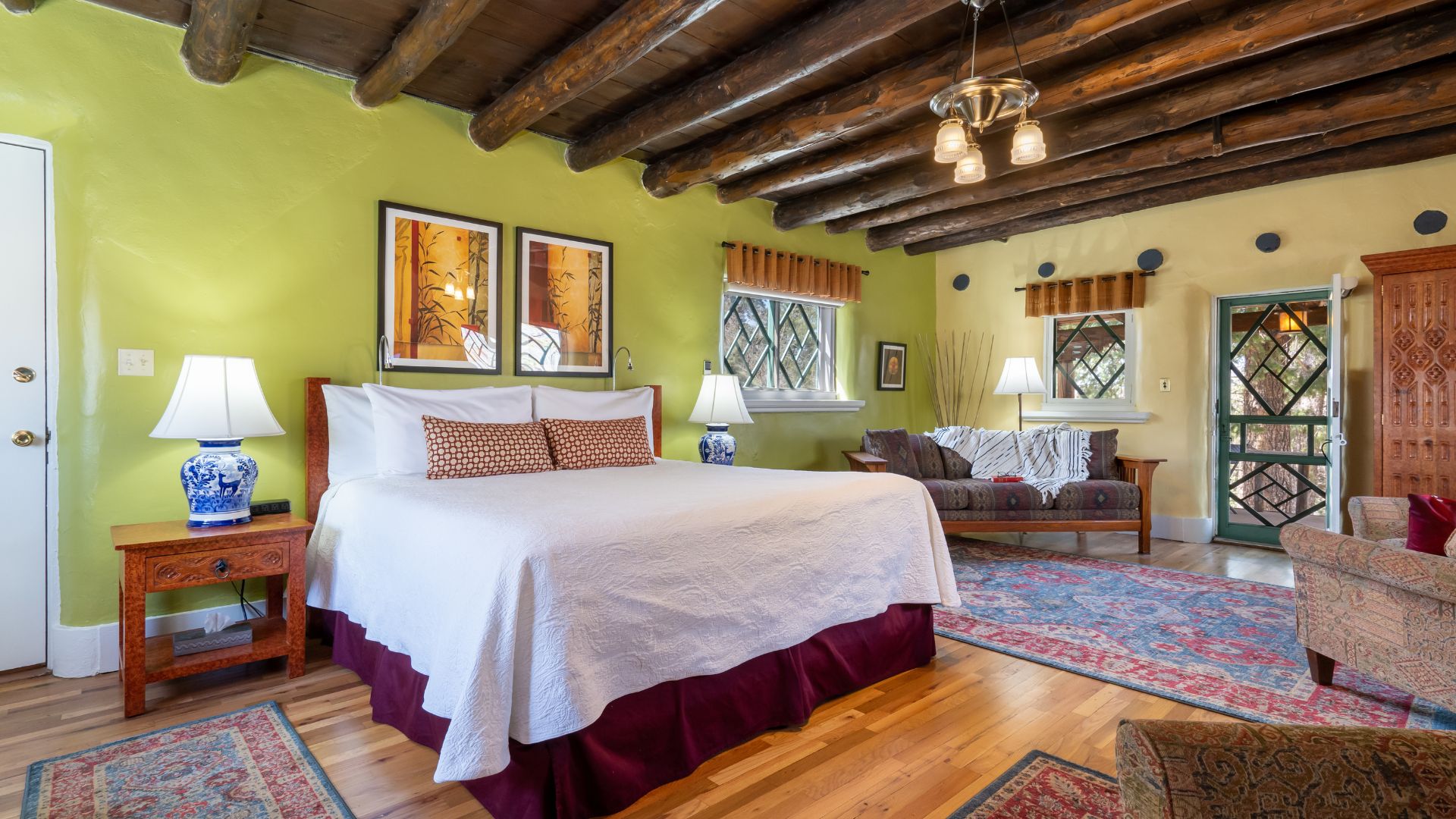 #4 – Guest-Inspired Accommodations
Once inside the inn, you'll notice that the style is in line with its historic significance. For instance, the lobby and several other rooms will take you back in time with their carved wood furniture and other accessories. We have managed to preserve the historical authenticity of our rooms and have even transformed the carriage house (now the Willa Cather Room) into an accessible retreat for our guests.
What's more, each room possesses its own Kiva fireplace. From mid-October to mid-April, these fireplaces are lit with the piñon wood – a culturally important resource on its own. Then, as you nestle in for the night ensconced in plush linens, you can imagine sleeping in the same room where D.H. Lawrence, Ansel Adams, Igor Stravinsky, or Georgia O'Keeffe spent the night.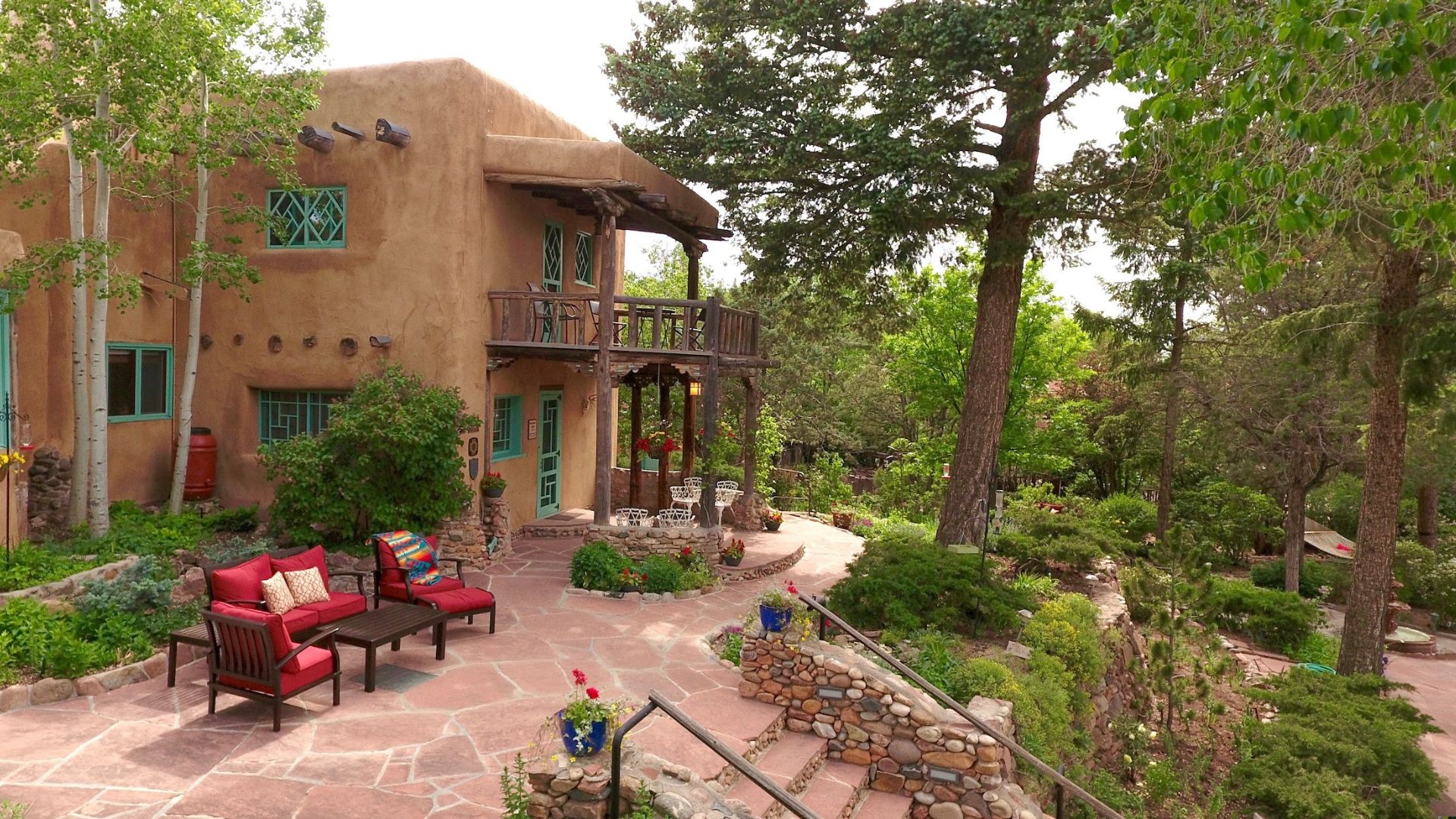 #5 – Lush Terraced Gardens
Imagine yourself enveloped by cozy courtyards, rock terraces, lush gardens, and natural walking paths. The scent of lilacs and roses will fill your senses as you admire the majestic pines that stand as guardians on this one-acre property. Make use of the two hammocks we have installed if you need an afternoon of quiet and dreams. Needless to say, visiting the inn is an experience you will enjoy and remember for years to come.
#6 – Innovative Comfort Food
The comfort and pleasure of our guests is the reason for everything we do at the inn, especially food, which represents much more than something to stave off hunger pangs. At times, our breakfasts and treats incorporate recipes and ingredients that reflect the area's roots, but we always strive to make them pretty on the plate and pleasing to the palate. Here are just a few examples.
As soon as you sample our Bizcochito Cookie, you'll understand why we serve it for special holiday celebrations.
For breakfast, our popular blue corn pancakes with piñon butter reflect Santa Fe's history and culture with every bite. Believe it or not, even something as simple as butter can be elevated to new heights with a traditional local ingredient.
Friday at The Bear is pie day! Savor a slice of pie and experience a piece of our iconic hospitality.
#7 – Unforgettable Weddings & Events
In case you haven't noticed, we love to emphasize the history, cultural richness, and natural beauty with which our inn is blessed. All of these elements come together to create magical moments just for you! The delicious food, cozy accommodations, and special touches we happily provide will make your ceremony or special event a joyful time with beautiful memories to last a lifetime..
So what are you waiting for? Come explore our historic gem. These 8 reasons to stay at Inn of the Turquoise Bear in Santa Fe are just the tip of the iceberg. Once you find yourself deep in Santa Fe's rich history, your getaway will become more than just a visit – it will be a unique cultural experience. Book now.