Santa Fe is known to be the third largest art market in the United States, and features a variety of museum-quality galleries and art festivals each year. Start planning your ultimate getaway at the Inn of the Turquoise Bear, located in downtown Santa Fe. During your stay, be sure to check out these 9 must-see Santa Fe art galleries.
MODERN AND CONTEMPORARY ART
#1 Center for Contemporary Arts (CCA)

It's a gallery. It's a performance space. It's a movie theater… It's the Center for Contemporary Arts, or simply CCA, as the locals call it. The CCA is one of the oldest artist-centered organizations in the Southwest, and is committed to supporting emerging and established artists. This non-profit arts center strives to create, maintain, and promote a vibrant gathering place for the exploration and presentation of diverse and challenging contemporary art forms and ideas through film, visual arts, educational outreach, and public programs.
Scores of visitors and locals alike are drawn to the CCA. During your visit, stroll through their gallery to view the latest exhibitions and then catch a film at Cinematheque, their art-house movie theater (one of our personal favorites). What's more, you can purchase some cool and funky handmade wares sourced from talented Santa Fe artisans in their retail shop.
#2 Tai Gallery
TAI Modern is dedicated to exhibiting and supporting contemporary art in a variety of media. Here, you'll find a special focus on Japanese Bamboo Art by 35 Japanese bamboo artists, as well as select contemporary American art.
POTTERY
#3 Lyn A. Fox Fine Pottery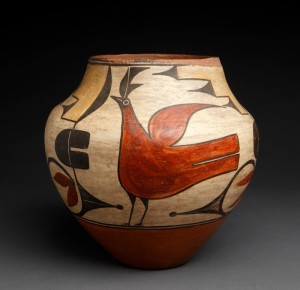 Since 1995, Lyn A. Fox Fine Pottery has featured exceptional examples of historic and contemporary pueblo pottery with an emphasis on pottery that was actually used in pueblo homes… This is the REAL deal! The featured pottery includes water jars, large storage jars, magnificent dough bowls, and small, unusual pottery pieces. There is truly something for every taste and budget. Their extensive knowledge of the background and circumstances surrounding each collectible makes for a fascinating experience for anyone interested in Native American art and history, whether you're looking to buy or just there to browse and learn.
PHOTOGRAPHY
#4 Monroe Gallery
Mydan, Eisenstaedt, Bourke-White, Newman—the world's most iconic black-and-white photojournalists are represented at this 1,700-foot gallery. A visit to Monroe Gallery is as much a lesson in world history as it is in art. Specializing in 20th- and 21st-century photojournalism and humanist imagery, many of these photographs still have the power to stir emotions and raise awareness.
DIVERSE ART COLLECTIONS
#5 Ventana Fine Art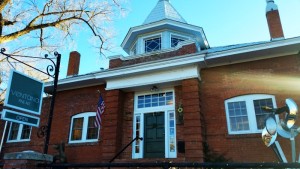 Situated on Canyon Road, home to about 100 galleries, Ventana Fine Art is not just another stop. Housed in a 107-year-old schoolhouse with landscaped sculpture gardens, Ventana features collections of contemporary art in both realistic and abstract styles that elicit a wide range of emotions and tastes.
#6 Gerald Peters Gallery
Gerald Peters Gallery is a prominent American art gallery that specializes in American Modernism, classic and contemporary Western Art, and paintings by Taos Society of Artists. You will often find exhibits of work by Georgia O'Keeffe, Max Weber, William Zorach, Charles Russell and Walter Ufer.
#7 Nedra Matteucci Gallery
Since 1972, Nedra Matteucci Galleries has strived to feature an important and diverse collection of paintings and sculpture. Today, you'll discover 19th and 20th century American art, including leading contemporary painters and sculptors that depict the depth of modern western art. Nedra Matteucci Galleries also owns Morning Star Gallery, which offers a remarkable collection of Native American antiques.
NATIVE AMERICAN ART
If you're interested in Native American history and culture, then we highly recommend visiting some of Santa Fe's Native American art galleries.
#8 Blue Rain Gallery
Blue Rain Gallery features an eclectic display of art by established contemporary artists, with a focus on regional, Native American, and Studio Glass art.
#9 Andrea Fisher Fine Pottery
Discover some of the finest Southwest Native American pottery at Andrea Fisher Fine Pottery, including the work of Maria Martinez of San Ildefonso Pueblo. You will also experience an education during your visit with the help of expert staff.
Historic Santa Fe Bed and Breakfast
After a day of exploring these 9 must-see Santa Fe art galleries, it's time to put your feet up and relax. Book your artistic getaway at our historic bed and breakfast in Santa Fe, once a popular guest home to some of the nation's top artists, like Georgia O'Keeffe, Ansel Adams, and Igor Stravinsky. In fact, we have rooms designed and named just for them, as well as other well-known artists and the former owners. Browse our unique and well-appointed guest rooms that reflect the essence of Santa Fe's history and culture, and book your favorite.