Santa Fe is a fantastic mecca of the art world. Did you know that more art is sold in Santa Fe than in any other city in the US, besides New York or Los Angeles? If you're an admirer of art, Santa Fe is the perfect place to visit. But how do you view more than 250 art galleries and examine the art displayed on the weekend? Simply put, you can't. That's why visitors return again and again. There's always something new to see. Consider the following suggestions when you plan an exciting tour of Santa Fe's Art Galleries.
Santa Fe Galleries
The EVOKE Contemporary invites you to experience the creative spirit of Santa Fe art galleries. A continual lineup of events and exhibitions will ensure something new. Expect to see provocative, contemporary, and art that is captivating.
They specialize in artwork from the 19th and 20th Centuries. Expect to find work from the Taos Society of Artists as well as Artists of the American West. You'll discover impressionistic work and modernism, a selection of Russian Realist paintings, as well as an extensive collection of Native American artifacts and delicate jewelry. Don't miss their one-acre garden with its large sculptural works of stone and bronze.
This gallery is a premier fine art gallery, one of the best in the United States. That may be reason enough to put it on your list. The work of over 50 artists with varying levels of experience is on display for your pleasure. You'll be able to perceive the influence of past master's echoed in these paintings and sculptors.
Art & History Museums
If your interests lean toward the historical aspects of the Southwest's art, there are a dozen museums to visit.
You want to make sure that a tour of the Georgia O'Keeffe Museum is on your list. You'll be able to explore more than 3,000 of her celebrated works—plan for about two hours.
From here, you can take a short tour over to The New Mexico History Museum. It will educate you on the early history of the Native American people and see the Spanish and Mexican influence on Santa Fe. Next, you can expand your tour to the Palace of the Governors and other places of interest.
In addition to the hundreds of galleries and museums, consider planning your stay during one of the internationally renowned summer fairs. Topping the list are the Traditional Spanish Market, the Santa Fe Indian Market, and the International Folk-Art Market. You'll need to check how the organizers of these fairs are adjusting to government requirements.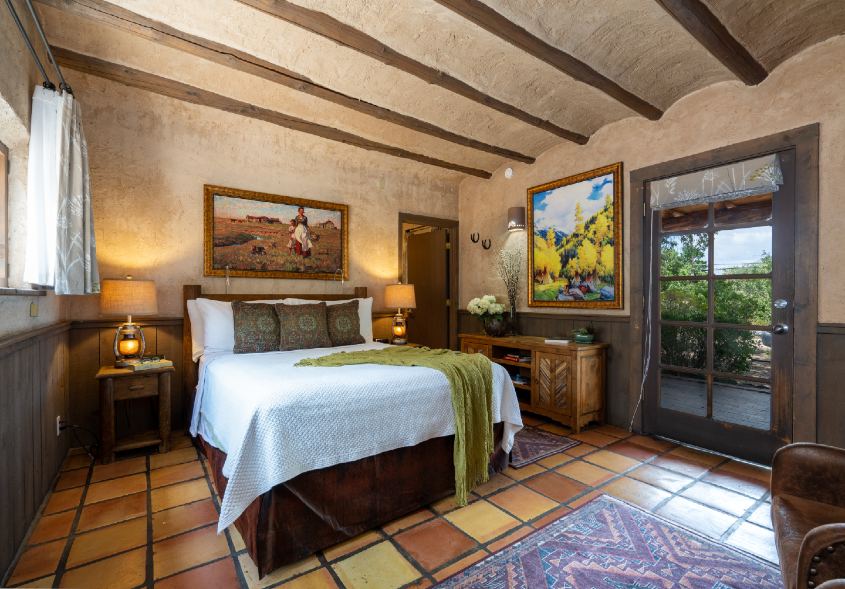 Plan Ahead
Before you come to Santa Fe, check out the type of art you'd like to examine with an online registry of gallery websites. Take notes and make a list. Then you'll be able to focus your efforts when you venture out to be absorbed in art. The websites Art-Collecting.com and Santafe.org will help you as you plan. Here is just a small sampling of the large mass of galleries and art venues to which you'll be exposed.
If your stay in Santa Fe is limited to a weekend, then be selective. Choose the galleries that show the type of work that you like or that you're thinking about collecting. Are you more attracted to traditional work or contemporary art? Knowing your interests will help point you in the right direction. Are there specific artists that you are looking to observe or collect? Consider making a list of where you can find their work. Is your interest more in three-dimensional art or two dimensional? Some galleries may feature one type, while others may display both. It may also be a good idea to limit your exposure to a reasonable number of galleries. Otherwise, beautiful art can begin to blend, and it all looks similar.
#1 Historic Adobe B&B in Santa Fe
A day viewing and collecting beautiful art is an enriching experience – one that you'll no doubt recall with great pleasure. Perhaps you could acquire a treasured piece; it would be even more satisfying to take a part of the Southwest home with you. At the end of the day, you can discuss all that you've seen while relaxing at the Inn of the Turquoise Bear. Our circa 1800's adobe-style bed and breakfast is full of art and history, making it a perfect place to stay. You can also look forward to starting each day with a delicious breakfast before seeking more treasures. You'll be so glad you made Inn of the Turquoise Bear a part of your exciting tour of Santa Fe's art galleries.
Published January 2001