Spring is in the air! It's time to get out and about enjoying longer days and warmer weather. And just as spring is opening up, so is New Mexico. There is so much to do in Santa Fe while still maintaining social distancing and being safe. Whether it's the exciting outdoor activities, enjoying the wonders of nature, admiring countless artists' creative expressions, or sampling the cuisine unique to New Mexico, the opportunities for cultural exploration and outdoor adventure are endless. But we can only do so much on a getaway. So, keep these 10 must-see attractions in Santa Fe at the top of your to-do list.
1. Canyon Road
Look to find present-day excitement carousing through the plethora of artists' studios, galleries, and craft workshops on Canyon Road. You'll be able to find every type of creative World art– sculpture, painting, jewelry, and pottery – just the right piece to decorate the home. After a while, legs may start to get weary, and hunger may cause your stomach to growl. It will then be time to take advantage of the cafes, tea houses, and restaurants that populate Santa Fe's must see art district.
2. Liquid Light Glass
The second in our list of must-see attractions in Santa Fe is Liquid Light Glass. Glasswork has an incredible elegance as light passes through it. It's amazing! Taking in a visit to the Liquid Light Glass will enable you to feast your eyes on finished work and also have the opportunity to watch glass artists shape new creations. The studio and gallery's creator, acclaimed glassblower Elodie Holmes, laid the foundations for the superb work you will see. An exciting day can be designed by including being a student in a workshop where you'll learn to make your glass creation. The classes are temporarily closed. But as things open up, it's time well invested.
Location: 926 Baca Street, Ste 3. Santa Fe, New Mexico
3. Museum of New Mexico Complex
This is an opportunity to leverage your time and be exposed to a wealth of New Mexico and Santa Fe history.
The New Mexico History Museum recounts the state's history stemming from the 16th century and working its way forward in time. Examine exhibits to learn about native populations, how the Spanish colonized the region, and how the Santa Fe Trail molded the West's development.
The Palace of Governors, a National Historic Landmark and the United States longest continually inhabited government building. During the17th century, it was the seat of the Spanish government. A tour of this adobe palace decorated with that period's furniture will pull visitors back in time to the 1600s, allowing them to sense the Southwest of over four centuries ago.
At the Palace Press, visitors can view live demonstrations of the first printing press in the state of New Mexico.
The Fray Angelico Chavez History Library will enable those that want to dive deep into the past to do so by taking advantage of the archival materials and historical documents.
The Photo Archives of over 750,000 images dating to the mid-19th century allows visitors to take a visual journey into the past.
The Museum Complex hosts a Native American art market to top off a visit.
Location: 113 Lincoln Avenue, Santa Fe, NM 87501 505-476-5200
4. Santa Fe Plaza
The Plaza has its beginnings as the spot where the Santa Fe Trail ended and where the early dwellers built a market square. That was probably a welcome sight to weary travelers. Today it is also a welcoming sight to visitors, presenting them with shops, galleries, and restaurants. It's also a great place to check for Native American Arts and Crafts at a local art market or under the Portal at the Palace of the Governors. That's especially true if it's jewelry that has caught your attention. At times the excitement runs high when city special events or cultural celebrations are in full go.
Location: 63 Lincoln Ave, Santa Fe, New Mexico
5. Museum of International Folk Art
What is folk art? Generally, the art has practical use of some kind, rather than being entirely decorative. The beginning of the Museum of International Folk Art was in 1953. It's impressive that a small community in the Southwest would have the most extensive collection of international folk art in the world! While there, peruse through baskets, textiles, wood carving, and ceramics. Arranged according to geographical region, enjoy a world tour of the world's folk art: Africa, Asia and the Middle East, Contemporary Hispano and Latino, European and North American, and Latin American. Included in the museum are sections covering Spanish Colonial and Textiles & Costumes. Augmenting the permanent features are temporary exhibitions and other events that include music, films, lectures.
Location: 706 Camino Lejo, Santa Fe, NM 87505 505-476-1200
6. Santa Fe Opera House
Do you like the richness and grandeur of opera? The Santa Fe Opera offers a broad range of operatic performances, such as a long-standing favorite like The Marriage of Figaro, to contemporary solo sopranos like Angel Blue. A fascinating feature is tailgating at the opera. Imagine mingling among theatergoers in formal wear sampling upscale finger-food. It's a rich cultural experience.
Location: 301 Opera Drive, Santa Fe, New Mexico
7. Georgia O'Keeffe Museum
What would a trip to New Mexico be without seeing the work of Georgia O'Keeffe for art enthusiasts? The Georgia O'Keeffe Museum is one of the most important must-see attractions in Santa Fe. This museum has the world's most extensive collection of O'Keeffe's work. Be delighted as you view her paintings, drawings, and assorted works. Even if you've been here before, different parts of her collection are rotated during the year, making it a fresh and unique experience every time. The work of other modernists such as Pollock, Warhol, and Levine may also be on display. You'll benefit from lectures about her work that add meaning and understanding to the creative spirit behind it.
Location: 217 Johnson Street, Santa Fe, New Mexico
8. Wheelwright Museum of the American Indian
Visitors to New Mexico are usually intrigued with the arts and crafts of the Native Americans that live in the American Southwest. Centered on these creations is The Wheelwright Museum. Look to enjoy a great variety of cultural objects, beautifully woven fabrics, silverware, and sand paintings that depict the Navajo culture. A historical aspect of the museum is a collection of old writings and even some documents inscribed in clay. Finally, contemporary art is displayed as well.
Location: 704 Camino Lejo, Santa Fe NM 87505 505-982-4636 or 800-607-4636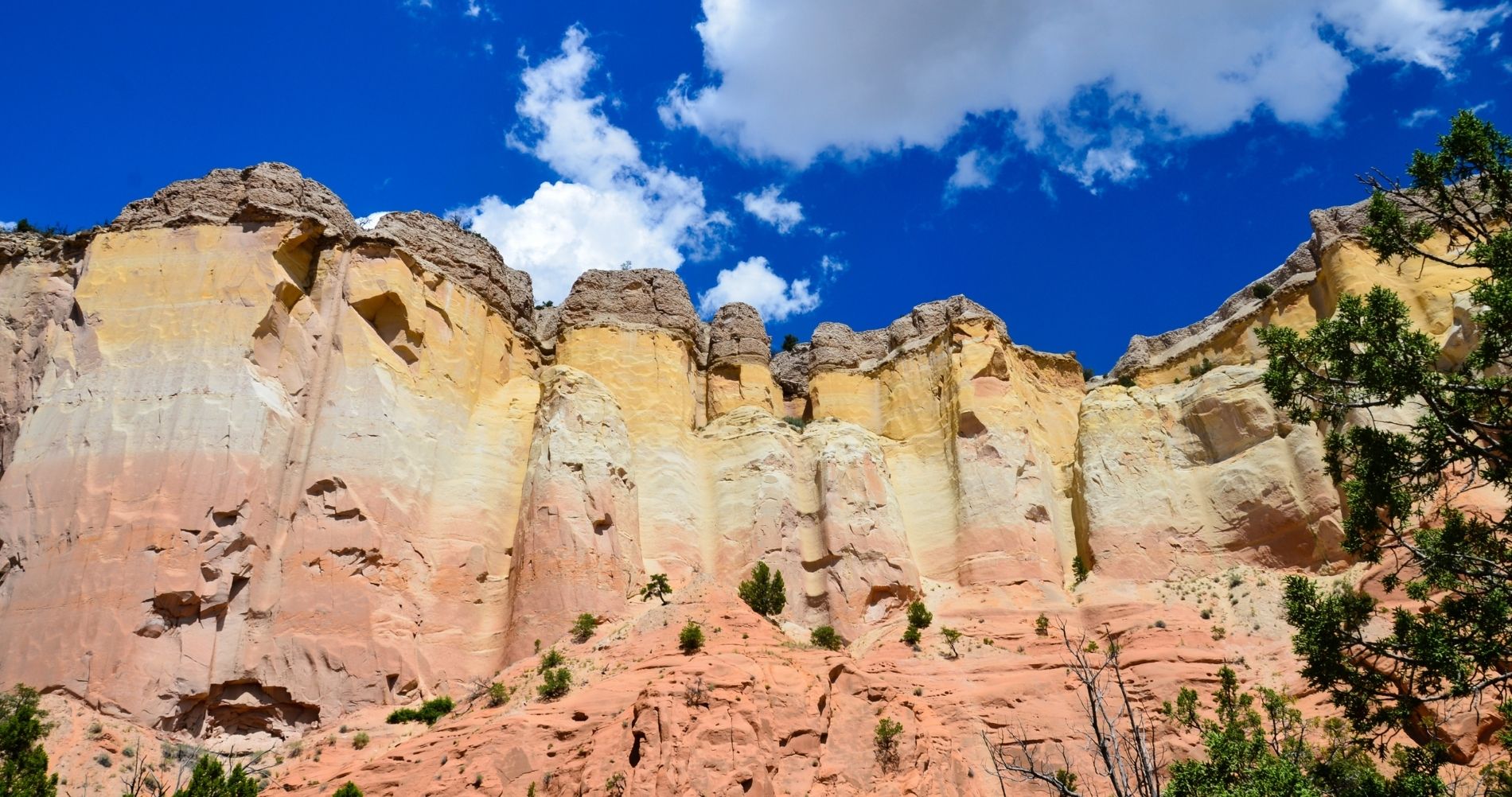 9. Outdoor Activities
Any visit to Santa Fe and the surrounding area means you have an abundance of outdoor activities available to you. Before the high elevation snow vanishes, skiing, cross-country skiing, and snowshoeing await the winter fan. Hiking to take a slow and absorbing view of New Mexico's beautiful scenery is always there for a fan of the open-air.
10. Inn of the Turquoise Bear
Last on our list but certainly not least is the Inn of the Turquoise Bear. It fulfills most of what anyone would want on a weekend or midweek getaway. Thoroughly enjoying a luxurious room and with Southwestern décor in a historic dwelling is a place that gives one the feel of being part of the culture. The inn compliments all the elements of a beautiful experience someone has while visiting Santa Fe. And let's not forget the superb and bountiful breakfast that awaits you in the morning. Take a look at the various packages the inn makes available to send you off on a fun day.
Location: 342 East Buena Vista Street, Santa Fe, NM, 87505
What a wonderful time spring is as we see things coming alive, plants flowering, and hear birds singing. As spring awakens, we feel the need to do something outside. Exploring and experiencing new things is part of being human. You are going to love filling that need with these 10 must-see attractions in Santa Fe.