Georgia O'Keeffe, the "Mother of American modernism," was an American artist well-known for her unique paintings. Today, you can explore the life and art of Georgia O'Keeffe in Northern New Mexico. Her two homes in rural New Mexico along with the Georgia O'Keeffe Museum offer a glimpse of what inspired her beloved art.
"I had it in my head, well, I couldn't have been 12…that I was going to be a painter." – Georgia O'Keeffe
Georgia O'Keeffe History
Born on November 15, 1887, Georgia Totto O'Keeffe grew up in Wisconsin. After high school, knowing at a young age that she wanted to be a painter, she studied at the Art Institute of Chicago and the Art Students League in New York. A few years later, she began to study the revolutionary ideas of Arthur Wesley Dow, an American painter, printmaker, photographer, and educator.
O'Keeffe soon developed her own unique style of art. She mailed some of her abstract charcoal drawings to a friend in NYC, who shared them with Alfred Stieglitz, a renowned photographer and art dealer. Stieglitz was so impressed by these drawings, that in 1916, he became the first person to exhibit O'Keeffe's work. After years of having a passionate but complicated love affair, Stieglitz and O'Keeffe married in 1924.
In 1929, O'Keeffe began traveling to northern New Mexico. The region's striking natural scenery and Native American and Spanish cultures greatly inspired her. Georgia was a close personal friend of Witter Bynner whom she met when they were both in New York City, and spent many of her first days in Santa Fe at Witter's estate as his guest.  It was Witter who first took Georgia to explore what is now known as O'Keeffe country with a visit to Abiquiú and Ghost Ranch…  places O'Keeffe would later make her home. She would end up spending more than half the year here from spring until fall. In time, her art reflected the southwestern landscape. After decades as a renowned artist, failing eyesight forced O'Keeffe into retirement in 1984.
Awards & Honors
O'Keeffe received many prestigious awards and honors, including:
Honorary degree of "Doctor of Fine Arts" from The College of William & Mary (1938)
Elected to the American Academy of Arts and Letters
Elected a Fellow of the American Academy of Arts and Sciences (1966)
M. Carey Thomas Award at Bryn Mawr College (1971)
Honorary degree from Harvard University (1973)
Presidential Medal of Freedom from President Gerald Ford – the highest honor awarded to American civilians (1977)
National Medal of Arts by President Ronald Reagan (1985)
Inducted into the National Women's Hall of Fame (1993)
"I know now that most people are so closely concerned with themselves that they are not aware of their own individuality, I can see myself, and it has helped me to say what I want to say in paint." – Georgia O'Keeffe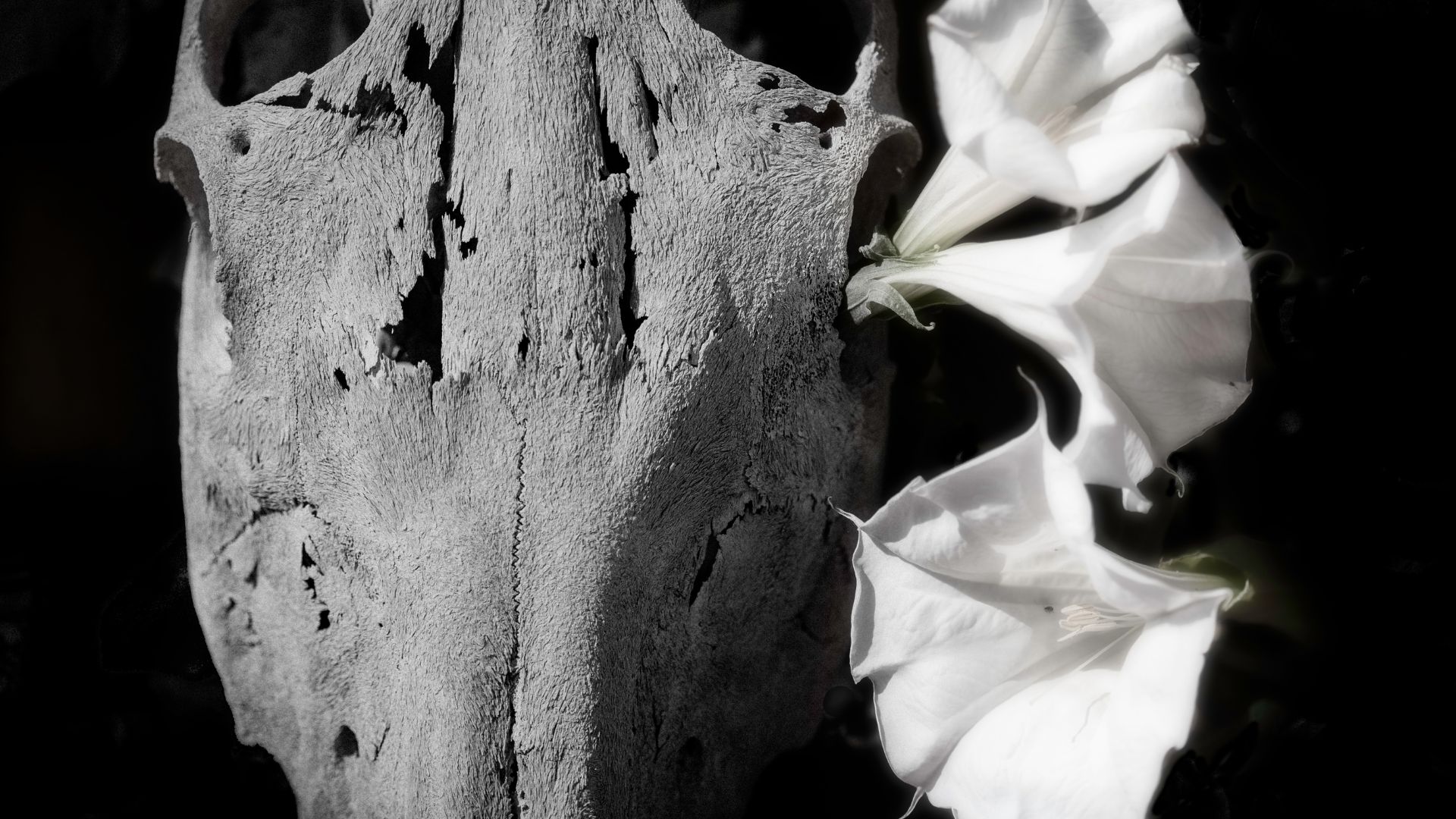 Visit the Georgia O'Keeffe Museum in Santa Fe
In July 1997, just 11 years after O'Keeffe's death, the Georgia O'Keeffe Museum opened to the public. The museum is home to an impressive collection of over 3,000 of O'Keeffe's works, including almost 700 drawings, 140 oil paintings, and hundreds of other works.
As you browse through the exhibits, you'll soon recognize O'Keeffe's unique style reflected in various abstractions, large representations of flowers, leaves, rocks, shells, bones, other natural forms, New York cityscapes, and paintings depicting the distinct shapes and colors of northern New Mexico's architecture and landscape. Tickets are limited, so advance reservations are strongly recommended.
Museum Hours & Locations
Museum Galleries
217 Johnson St, Santa Fe, NM
Open Thursday – Monday from 10am to 5pm
Museum Library & Archive
135 Grant Ave, Santa Fe, NM
Open Monday – Friday from 9am to 12pm
Reservations required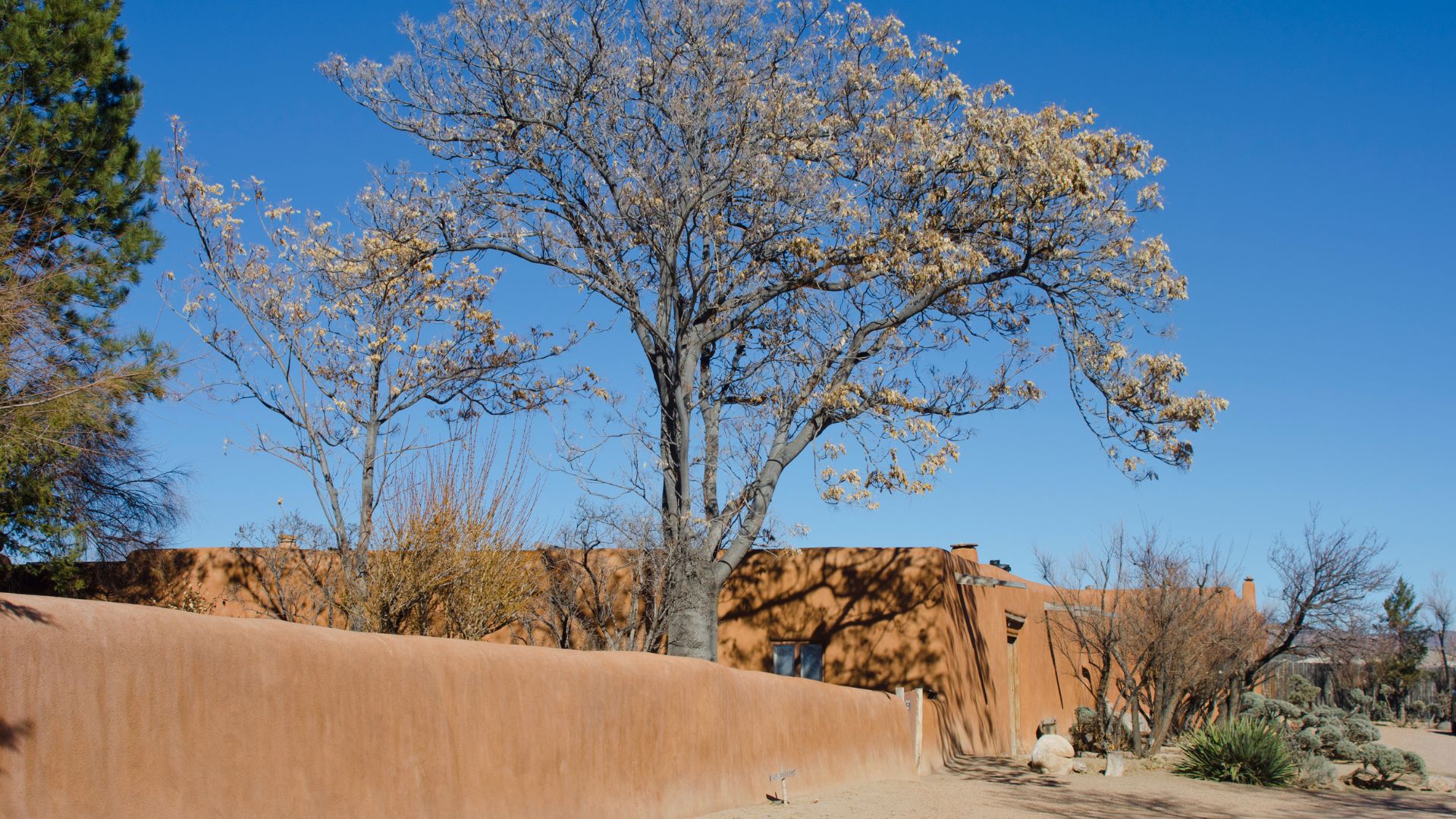 "It was all so far away—there was quiet and an untouched feel to the country and I could work as I pleased." – Georgia O'Keeffe
O'Keeffe's Abiquiu Home & Studio Tours
In 1931, Georgia O'Keeffe visited the village of Abiquiú (Ah-bih-cue) for the first time. Almost 20 years later, she made this mystical place her permanent home. In fact, she maintained two homes here.
Her first summer home, which was not suitable for year-round use, sits on 12 acres at the edge of Ghost Ranch, a 21,000-acre property operated by the Presbyterian Church. Although the summer home is not open to the public, the Ghost Ranch is and is definitely worth visiting.
Her second, larger home is located just 12 miles away in Abiquiú, situated along the Chama River. O'Keeffe loved the home's well-irrigated garden and winter comfort. It's worth noting that this national historic landmark is one of the most important artistic sites in the United States. The Museum has been caring for the preservation of O'Keeffe's home and studio since 2006.
Museum Welcome Center
21120 US-84, Abiquiú, NM
Open Tuesday – Saturday from 8:30am to 4pm
Free and open to the public. Home & Studio tours begin here.
The Abiquiu Home & Studio
Tour season runs from March to November
Reservations required
Historic Accommodations Near the Georgia O'Keeffe Museum
If you're planning a trip to New Mexico to experience the Georgia O'Keeffe Museum & Home Tour, then you must stay at the Inn of the Turquoise Bear. Located just 60 miles south of Abiquiu and only 6 minutes from the Museum in downtown Santa Fe, we're ideally located for guests touring O'Keeffe country.
Our historic rambling adobe estate was home to Witter Bynner, an American poet and writer. Bynner moved to Santa Fe in 1922, and hosted many famous artists over the years, including Georgia O'Keeffe. Make your stay even more special by staying in our Georgia O'Keeffe guest room. This spacious room has a private entrance, king-size bed, mini-fridge, Kiva fireplace, and so much more.