Santa Fe – Winter Sports Haven
With an average of 300 sunny days a year and plenty of snow during the winter season, Santa Fe is a winter recreation paradise. Whether you're a novice or an expert, a downhill skier, snowboarder, or cross country skier, you'll enjoy miles of challenging trails, beautiful panoramic mountain vistas and endless fun beneath our winter sun!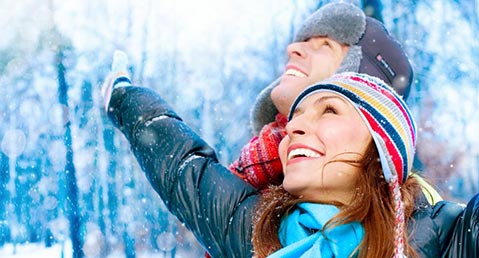 Skiing and Snowboarding
Winter sports enthusiasts will love Santa Fe for snow skiing and snowboarding. Located only 15 miles from the Inn, Ski Santa Fe has 7 lifts and 79 trails, 20% of which are ideal for beginners and 40% aimed at the most experienced skiers. This exceptional ski area, offers 1,725 verticalfeet of skiing, with a base elevation of 10,350 feet with ski-lifts topping out at 12, 075. Ski Santa Fe is generally open from Thanksgiving to Easter each year and is now serviced by bus service from Santa Fe. Check out our Winter Weekday Ski Special!
Cross Country Skiing and Snowshoeing
Santa Fe boasts several popular areas for Cross Country Skiing and Snowshoeing. Popular, groomed courses c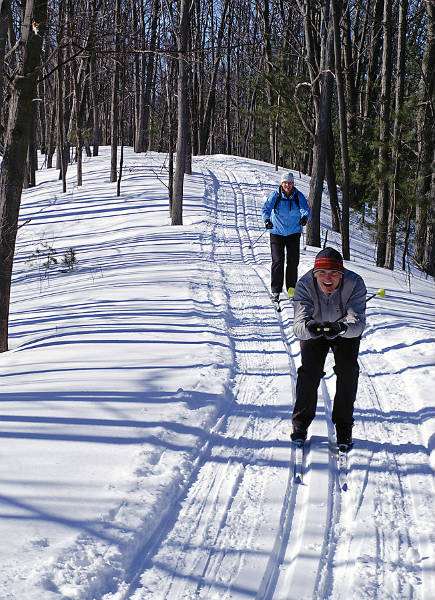 an be found at the Aspen Vista Trail and the Norski Trail on Hyde Park Road just below Ski Santa Fe, the Pajarito Nordic Ski Trail, and the rolling terrain of Valles Caldera National Preserve, a volcanic caldera in the Jemez Mountains. All of these locales offer up pristine alpine meadows with courses for the beginner and advanced.
Winter Hiking
If you're looking for a slightly more easy-going approach to your winter recreation, our nearby Santa Fe National Forest is crisscrossed by a thousand miles of year-round hiking trails, luring hikers of all experience levels into the beautiful snow frosted forests of pinon, juniper and ponderosa pines.
For hiking just 5 minutes from our Inn, head up to the Randall Davey Audubon Center & Sanctuary. This beautiful 135-acre preserve attracts more than 190 species of rare and common birds, varied local wildlife, as well as high desert plant life and forests. The hiking trails around the Davey Audubon center will lead you through many habitats and micro climates, ranging from sprawling meadows to towering Ponderosa Pine forests. If you need a break, the center also offers guided bird spotting and nature trail tours.
Located just 30 minutes from downtown Santa Fe, visitors can go to the Nambe Pueblo, home to one of the most spectacular natural waterfalls in the Southwest. Nambé Falls Recreation Area offers an array of outdoor winter recreation opportunities, including cross country skiing, snowshoeing, or hiking along a frozen waterfall. The Pueblo is nestled in the foothills of the Sangre de Cristo Mountains, and encompasses nearly 20,000 acres of high desert winter landscape. Nambe, originally "Nanbe", meaning round earth, is one of six Tewa-speaking pueblos of Northern New Mexico.
When you're ready for a break or done for the day, Santa Fe offers world-class restaurants, musical entertainment, museums, and art galleries. There are numerous activities and events throughout the winter, check out our events calendar. At the end of your day, return to your guest room at the Inn of the Turquoise Bear where you can warm-up and relax with the smell of Piñon and pine in your guest room's wood burning fireplace.
Winter recreation in and around Santa Fe is as unique and varied as our residents and visitors. There's something for everyone! Check out our Winter Specials and book your stay at our historic rambling adobe estate this winter, and get ready to have some winter fun Santa Fe style!