Mountain Biking in Santa Fe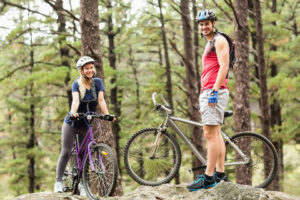 Santa Fe offers more than 300-miles of mountain-biking trails surrounding the city.  In 2014, the International Mountain Bicycling Association recognized Santa Fe as a 2014 Silver Level Ride Center. There are 37 ride centers around the world and only 12 of them are Silver.
Whether you want adrenalin-producing technical challenges at 9,000 feet, or a flatter, easier way to enjoy the outdoors on wheels, Santa Fe has it all.  Prefer to ride with others?  The Santa Fe Fat Tire Society, hosts a variety of group rides year round.
The Dale Ball Trails loop around through the Sangre de Cristo foothills, with trail-heads located near St. John's College and at the head of Upper Canyon Road.  The 9-mile "Outer Loop" offers climbs, single-track, technical sections, and great views. This trail, recently voted as one of the top ten trails in the US, is shared with hikers, so please be cautious.
La Tierra Trails, on Santa Fe's northwest side, is the site of the "La Tierra Torture" race every year, and offers 22-miles of mixed-use trails. The high desert riding features wide, sandy trails and lots of room for beginners to experience trail riding without much technical challenge.
The Winsor Trail, which can be accessed in the parking lot of the Ski Santa Fe, at the top of Artists Road, is known as one of the top mountain biking rides in the country and is our personal favorite for biking or hiking. This 10-mile downhill  features 3,400 elevation change, switchbacks, creeks to cross, rocks and tree roots to challenge, and lot of technical single-track. You can also do your 10-miles going the other way—up.
The Rail Trail is a popular commuting route for cyclists but features a dirt section further outside the city center.  Built on former railroad tracks, it travels from the downtown Railyard area, 17 miles to Eldorado, east of the city. The first section is paved, but after Rabbit Road,  paving ends,  and the trail becomes a mountain bikers's  fun-path. This is a great choice for families.
Join us at our Santa Fe bed and breakfast and fuel up for the day ahead with our hearty gourmet dishes & relaxing accommodations.