We enjoy providing our guests with fresh, tasty, and nutritious breakfast options at our Santa Fe inn.  As a bed and breakfast, this can be challenging when guests require a vegan, gluten-free or dairy-free diet.  Our sweet breakfast quinoa porridge is one of our go -to's for guests who can't enjoy our typical sweet breakfast offerings like pancakes or waffles.  It's become a guest favorite.  Quinoa is one of the few plant-based sources of complete protein.  With its mild flavor, light crunch and impressive protein content, quinoa is the perfect gluten-free option for our guests.  So quick and easy to prepare also.  Enjoy!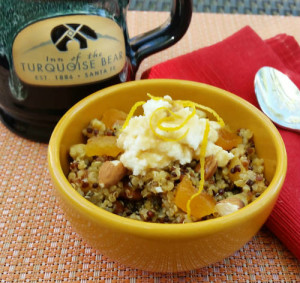 Sweet Breakfast Quinoa
Serves:  4
Total Time:  25 min
Cook Time:  10 min
Ingredients
1 cup(s) red or tri-color quinoa, rinsed
2 cup(s) water
1 tablespoon(s) extra-virgin olive oil
1/4 cup(s) roughly chopped almonds
1/2 cup(s) dried apricots, chopped
2 tablespoon(s) pure maple syrup
1/2 teaspoon(s) finely grated orange zest
¼ cup orange juice
1/2 teaspoon(s) cinnamon
1/4 cup(s) fresh ricotta
Directions
In a small saucepan, cover the quinoa with the water and bring to a boil. Cover and cook over low heat until the water has been absorbed and the quinoa is tender, about 15 minutes. Lightly fluff the quinoa with a fork and cover it again.
In a medium skillet, heat the olive oil. Add the almonds and cook over moderate heat, stirring a few times, until golden brown, about 2 minutes. Add the apricots, maple syrup, orange zest, orange juice, and cinnamon, and stir well until heated through.
Add the quinoa to the skillet and stir gently to incorporate the almonds and apricots. Top each portion of quinoa with a tablespoon of ricotta, drizzle of maple syrup, and serve.