Santa Fe is a foodie lover's haven whether grabbing a quick bite, luxuriant multi-course dinner or lunch anytime of day. Ask any Santa Fean, and they'll tell you these are their reliable go-tos for lunch. Dine where the locals dine and experience true Santa Fe!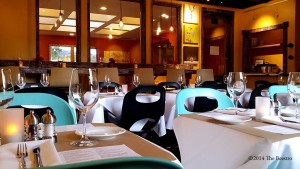 A few blocks down Paseo de Peralta from the Railyard District, across busy St. Francis Boulevard, the street changes names, to Hickox Street, and the ambience goes bohemian—there's a liquor store, a Tibetan Buddhist Center, a few artist spaces, and a neighborhood of funky bungalows.  The Tune-Up is ground zero for youngish locals, although the friendly staff welcomes everyone as if they were friends.  Christmas lights outside, a lively outdoor patio, and delicious breakfast, lunch and dinner, make this a hangout where you can dine extremely well.  The chef is from El Salvador, so don't pass-up anything on the menu with a Central American flavor.  Wine and beer as well as hard cider are served. Desserts are made on the premises.  1115 Hickox Street.  Open 7am-10pm seven days a week.
A short walk from the galleries of the Railyard District, this salad restaurant is popular with locals who, believe-it-or-not, do not live on green chile alone. With their own organic farm out near Abiquiu, you are bound to have the freshest-tasting meal you've had in a while.  The Omega, Eat Your Peas and Arugula Duck salads are delicious.  So are Erin's Mac-n-Cheese and the Reuben sandwich. Vinaigrette has opened up new branches in Albuquerque and Austin.  709 Don Cubero Alley.  Open Mon-Sat, 11 am to 9 pm.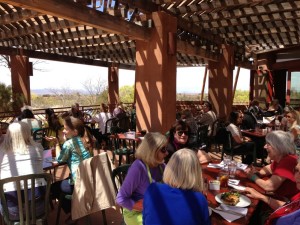 Not just for museum-goers.  Neighbors and those looking for a relaxed setting  know that this restaurant is not only convenient, but offers indoor-outdoor seating, and a menu that covers all the bases.  Museum Hill, with its off-the-beaten path, hillside location, makes for a great excursion during the height of the summer, when the Plaza can begin to feel a little too popular.  It always seems quiet there.   And there are four world-class museums waiting for your visit.  Located on Museum Hill, 710 Camino Lejo.  Open 11am – 3pm, six days a week.  Closed Mondays.
Clafoutis French Bakery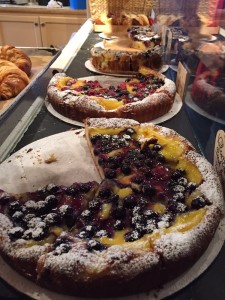 This French bakery and creperie is a staple in Santa Fe.  It is packed in the morning with people enjoying fresh-out-of-the-oven pastries and café au lait in bowls.  But lunch brings with it the opportunity to sample dishes like Croques Monsieur, Salade Nicoise, or a slice of salmon quiche.  Run by a French couple, you are greeting with a cheerful "Bon Jour," and before leaving, walking up to the cash register gives you a moment of pastry porn, peering inside the well-stocked bakery case.  It is nearly impossible to leave without wrapping up something sweet to go.  333 West Cordova Road.  Open 7am – 4pm, Monday – Saturday.