Each morning at the Bear we enjoy surprising guests with a unique smoothie starter to our gourmet breakfasts. Guests who stay with us for several days inevitably inquire first thing each morning, "What's the smoothie of the day?"  This Basil-Lime smoothie is fresh, tart, and shouts out summer is here!  It's one of our most requested smoothie recipes. The following recipe will yield four to five cups but can easily be reduced and stored for a day or two. Enjoy!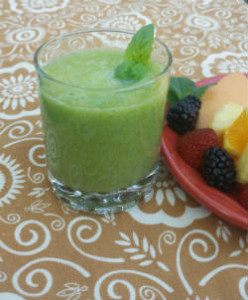 Ingredients
1 lemon peeled, sliced and seeded.
2 limes peeled and halved
1/4 cup sugar or sweetener of choice
6-7 fresh basil leaves
3 cups ice
1 cup water or apple juice
Directions
Place all ingredients in a blender (we use a Vitamix) and secure lid.
Turn machine on and quickly increase speed to high.
Blend for 90 seconds.
Garnish with fresh basil leaf or lemon wedge.