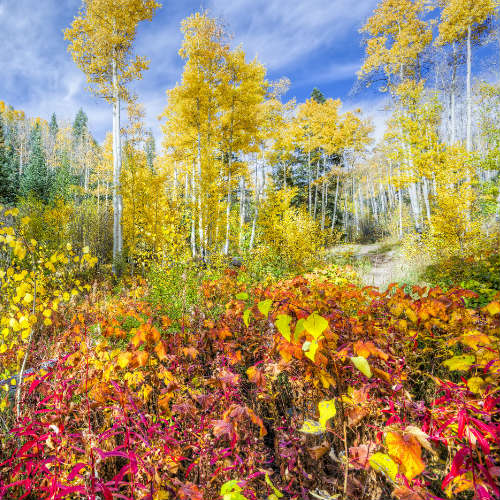 Celebrate the Colors of Santa Fe
Come See the Aspens
We have guests travel from all over just to get a glimpse of the majestic aspen trees in Santa Fe. Autumn is the perfect time to stay at the Inn of the Turquoise Bear and take advantage of its colorful surroundings. Ask us about great hiking trails and day trips to fill your days and don't forget your camera!
Fall Festivals & Events
September is one of our favorite months for Santa Fe festivals and events, and another way for you to witness the vibrant colors of New Mexico culture. Mark your calendars for unique experiences like the 93rd annual Burning of Zozobra, a 50-foot-tall Old Man Gloom who bears sad thoughts, the 300-year old Fiestas de Santa Fe celebration, the 10th annual Santa Fe Renaissance Fair, the Santa Fe Wine & Chile Festival, and so much more!
Santa Fe Opera Season
Opera Season is upon us and you won't want to miss what's lined up this year! From Scottish Shakespeare to a memoire of Steve Jobs, there is something for everyone. In addition to Opera lovers, any fans of design, architecture, and/or breathtaking scenery should visit the spectacular Santa Fe Opera. Stay at the Inn of the Turquoise Bear and choose from one of our fabulous Opera tailgating and celebration packages. See details.

Tranquil, Unique, Memorable
"My husband and I accompanied by our chihuahua stayed four nights at the Inn… We truly enjoyed each delicious breakfast prepared by Dan the Innkeeper. He is a great chef with a nice presentation and attention to detail. We also enjoyed the books in the rooms about the poet Witter Brynner, the original owner of this historic home. Nestled in a tranquil setting, accented by lovely aspen trees, our stay at the Inn of the Turquoise Bear was extraordinary, unique, and memorable." -khelveston5, TripAdvisor.com