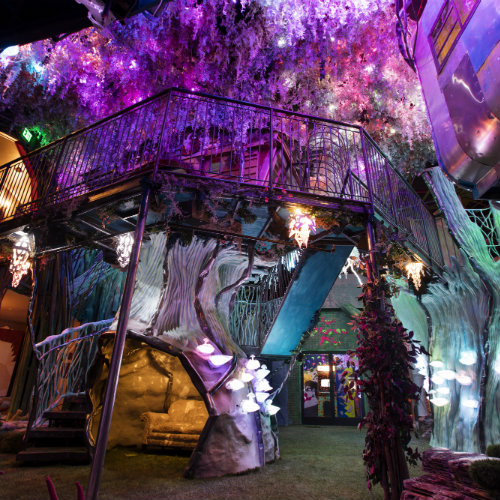 Give the Gift of a Santa Fe Getaway
If you've been a guest at our Santa Fe bed and breakfast, we look forward to your return! The holidays are here and now is a great time to share the love. If you're looking for the perfect gift for your loved ones, look no further. We have just the thing. Get your friends and family an Inn of the Turquoise Bear Gift Certificate and gift them with a relaxing getaway filled with outdoor adventure, fantastic food and drinks, great shopping, and so much more. Order online today and consider your work done!
Now you can start planning your own Santa Fe holiday. Close out 2017 or ring in 2018 with the Turquoise Bear!
Our Gift to You – Meow Wolf Special
Don't miss a very special Santa Fe spectacle this season. Book any 3 nights January through March and get 2 free tickets to Meow Wolf, a wildly imaginative and interactive art installation that's fun for the whole family!
Book online and use code "MEOWWOLF" to claim your tickets.
Meow Wolf photo by Kate Russell

Authentic Santa Fe Experience
"My wife and I recently stayed two nights at the Inn of the Turquoise Bear to celebrate our 20th anniversary. This is the second time that we stayed at the Inn since the new owners purchased the property. Dan and Alex have kept all the charm of the Inn while upgrading and making improvements that enhanced our visit. We particularly enjoy breakfast in the big dining room; the food is terrific and we always meet other visitors who share their favorite excursions in and around Santa Fe. The Turquoise Bear will always be our go-to place for a Santa Fe getaway!!" -johnmary-dallas, TripAdvisor.com