Summer Music at the Bandstand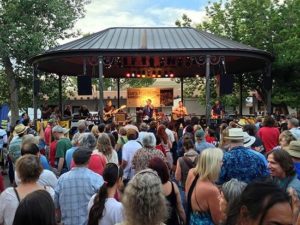 Free concerts at the Santa Fe bandstand, a National Historic Landmark in the Santa Fe Plaza, will run from July 5-August 26, Tuesday–Saturday at 6pm. Bands will offer New Mexico polkas, honky tonk with a Cajun flavor, world music from Mali, folk/country/bluegrass, hip hop, blues, jazz, rock and  funk. Bring a folding chair or find a spot on a park bench or the lawn. This is a hugely popular event with locals and tourists alike. Dancing on the Plaza is optional but encouraged.
Some of the acts:
July 5," Lone Piňon," New Mexico Roots music; " Nosotros," salsa.
July 7, "Mamadou Kelly" music from Niger's Delta.
July 12, "Partizani Brass Band" New Orleans Street Brass; "Terrance Simien and the Zydeco Experience."
July 19, "Jaka" Afro Pop Funk;  "Polyrhythmics", World Beat/Afro Pop
August 2 "Chango" Dance Rock.  "Billy D & The Hoodoos." Blue/Rock.
August 16, Larry Mitchell and Robert Mirabal, guitar and ceremonial music.
August 23, "Surf by Southwest,"  "Let It Grow," Trip rock.
Join us this summer at our Santa Fe bed and breakfast and check out this summertime hit!