What goes great with New Mexico chili? Chocolate! Spend a day traveling our own Santa Fe Chocolate Trail! Indulge yourself with artisan chocolates, truffles, confections, and chocolate drinking elixirs at one or more of our favorites!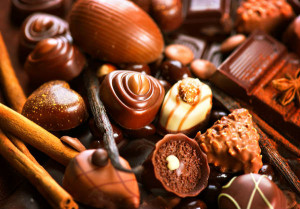 Here are our top stops for decadent delights on the trail…
Kakawa Chocolate House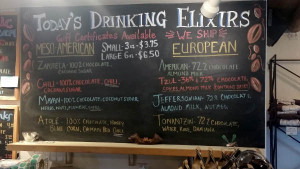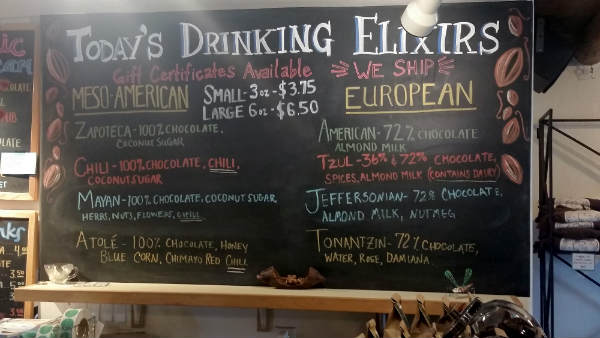 A must stop on the Santa Fe Chocolate Trail is Kakawa Chocolate House located just a few blocks from our historic bed and breakfast at 1050 Paseo de Peralta. Our Niece Jennifer's favorite stop on the Chocolate Trail. Their passion is authentic and historic drinking chocolates elixirs including traditional Pre-Columbian, Mesoamerican, Mayan and Aztec, European and Colonial Mexican drinking elixirs. Their Chocolatiers create artisan truffles, agave caramels, solid dark chocolates and delicious homemade ice cream.
Todos Santos Chocolates and Confections
Todos Santos carries house made creations including truffles, toffee, and exotic gold- or silver-leaf covered chocolate milagros, as well as eclectic confections from around the world. They are tucked in the beautiful, Sena Plaza Courtyard off Palace Ave, near the historic Santa Fe Plaza.
C.G. Higgins Confections
This bou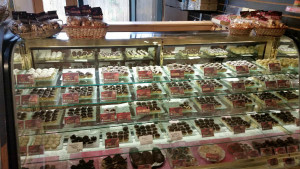 tique chocolatier, candymaker, and the home of Chuck's Nuts Originals. They hand-make fine chocolate truffles, caramel corn, and many types of nut brittle, most recently featured on the Food Network's "Road Tasted" with the Neelys. Also known for their specialty fudge, C.G Higgins incorporates local flavors of New Mexico including lavender and red and green chiles.  C.G. Higgins has since ceased operations since this post but passed on their award winning recipes and traditions to former emplyees Who have since opened Sweet Santa Fe, LLC located in the Fashion Outlets of Santa Fe (South end of Cerrillos Road) at 8380 Cerrillos Road.  Check them out!
The ChocolateSmith
As seen on the Food Network! ChocolateSmith specializes in fine fresh dark chocolate handmade daily. Stop in and visit their chocolate foundry and gift shop on Cerrillos Road. Toffee almond bark, Don Juan pecans, green chile pistachio bark, sea salt caramel, white chocolate lemon lavender bark, chile chocolates and more! Located at 851-A Cerrillos Road and on the Plaza inside the Plaza Galleria.
CoCopelli Chocolatier
Off the typical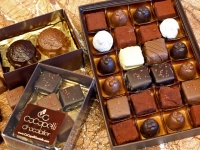 tourist trail, but worth exploring is CoCopelli Chocolatier. CoCopelli creates truly unique, handmade chocolates, truffles, chocolate covered strawberries as well as cupcakes, cakes and other delights. They strive to make the world a sweeter place, one cupcake and truffle at a time! CoCopelli is located out Cerrillos Road at 3482 Zafarano Drive, Suite A.  CoCopelli Chocolatier has since ceased operations.
Señor Murphy Candymaker
Located j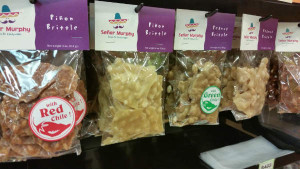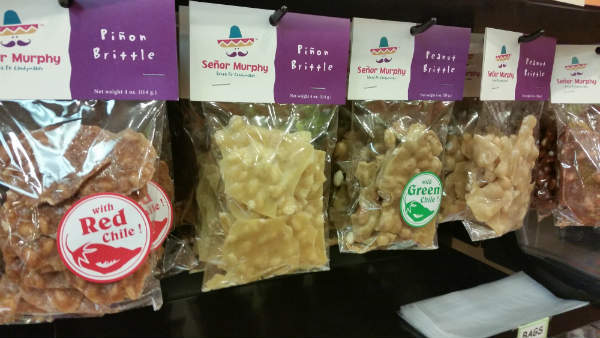 ust off the Plaza in the La Fonda Hotel and in Santa Fe's DeVargas Center, Señor Murphy Candymaker uses only the very best and freshest ingredients in small, hand-made batches of chocolates and candies. A local favorite! Try their Piñon specialties like rolls, toffee, and brittles or their chili pistachio bark….yum!