Here we go again naming the "Best" restaurants in Santa Fe…really quite an impossible task!  Santa Fe is a food lover's paradise so picking the best is like asking a mother to name her most loved child….impossible!   We are excited to share with you some of our favorites in town as validated again and again by our guests at the Turquoise Bear.
Andiamo Italian Trattoria
Near the Railyard you'll find the favorite restaurant of Alex, our Assistant Innkeeper.  Andiamo (which means let's go) is a local neighborhood trattoria.  Their menu is inspired by classic Italian cuisine, but as food is born of the region, they nurture strong connections between the Santa Fe Farmers Market and their kitchen — melding indigenous foods with Italian imports.  We love their now famous crispy polenta appetizer placed on a creamy Gorgonzola sauce that's flavored with fresh rosemary!  So good!  Alex's favorite dish is the seafood linguine with clams, mussels, tilapia, shrimp, tomato, basil, white wine and saffron aioli.  The space inside is bright and fairly quiet, even when it's full of patrons, and tables are set close together but not so close that you feel crowded.  (505) 995-9595.
Cafe Pasqual's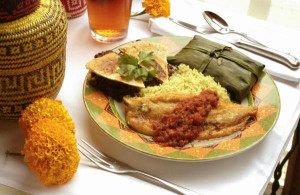 For thirty-six years Cafe Pasqual's has been serving emphatically flavored cuisine inspired by the culinary traditions of New Mexico, Old Mexico, the Mediterranean and Asia.   Cafe Pasqual's is named for the folk saint of Mexican and New Mexican kitchens and cooks, San Pasqual.  Their colorful historic pueblo-style adobe is located one block southwest of the Plaza.  Their festive dining room is lined with hand-painted Mexican tiles and murals by the renowned Mexican painter Leovigildo Martinez, depicting the moon reveling at her fiesta.  Pasqual's is a small café with typically long lines of diners waiting to enter.  Consider dining at off hours to reduce the wait.  We LOVE their Cochinita Pibil, slow-cooked shredded pork served in a banana leaf, one of Pasqual's trademark dishes. At lunch, try their creative BLT sandwich which several of our guests have called the best thing they've ever eaten!   (505) 983-9340.
TerraCotta Wine Bistro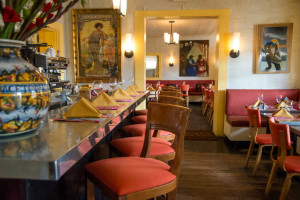 For smart, creative, casual food and wine check into TerraCotta Wine Bistro located just blocks from the Plaza and steps from the Georgia O'Keeffe Museum.  Housed in a charming 19th century adobe TerraCotta features globally -inspired food, wine and beer, utilizing local and regional foods.  The ambiance is inviting, informal, up-beat, and fun, great for intimate gatherings and romantic celebrations.  TerraCotta is the inspiration of Catherine O'Brien and Glenda Griswold, the owners of one of Santa Fe's premier catering companies since 1996.  The menu at TerraCotta is, according to O'Brien, "Southern overtones with multicultural influences", with hints of Asian, New Mexican, and
French cuisine.  Their menu features nice options for sharing plates, salads, paninis, entrees, and of course yummy desserts.  In addition, they offer a $ 30 3 course Prix Fixe menu that changes with Chef's Catherine inspiration.  Best of all, their  moderately priced with Happy Hour continuing all day long and a large selection of wines by the glass for $6 until 6:00 PM.  Try their bruschetta sampler where you choose four types of creative bruschetta from 12 options.  Yummy!  (505) 989-1166.
Izanami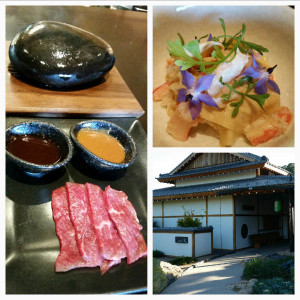 At Izanami, located at Ten Thousand Waves Spa, don't expect the usual Japanese fare…. there is no sushi or hot sake that has given sake such a bad rap.  Izanami is an izakaya style restaurant (Japanese tapas) serving upscale Japanese bar food. small plates meant for sharing, creatively prepared locally-sourced meat and produce with an emphasis on seasonality, all accompanied by unique libations.  Izanami's The newly constructed restaurant is a tranquil, spacious bento box of Japanese style using New Mexican woodwork combined with older uprights and beams salvaged from Japan.   A beautiful, clean-lined, organic sense of serenity await you.  Izanami, opened in November 2014 and was almost immediately named a semifinalist for "Best New Restaurant" by the James Beard Foundation in 2015.  They have the best selection of artisanal microbrew cold sake found anywhere between the coasts, green teas from shizuoka, and Japanese craft beers.  Sit at the counter to experience the pyrotechnics of their charcoal grill or choose a custom-made, private booth, a cozy table for two, floor seating in the tatami room, or a chair at the communal table.  You'll love the pine-tree views across the valley that makes their veranda one of the best patios in Santa Fe!   505-428-6390