Thanks to above-average snowfall in the mountains north of New Mexico this year, it promises to be a spectacular summer for white-water rafting.  A number of local outfitters offer everything from transportation to and from the rivers, food and drink, and, of course, all the equipment you will need to have the experience of a lifetime.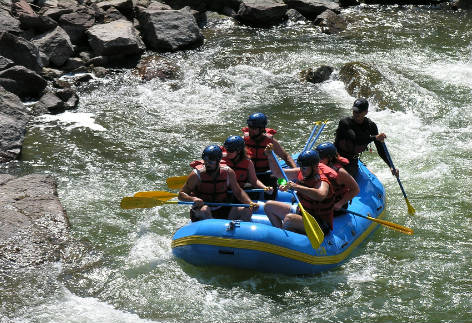 Rafting is not a passive activity!  Everyone is given an oar, and with frequent orders from the guide, helps to successfully steer the boat. Some trips are geared towards thrill-seekers, while others are offered for those who may want a more relaxing experience.  Later in the summer, when the water levels are lower, many guides invite you to take a dip long the way. You might also want to try a self-powered trip on a "funyak," an inflatable kayak, guaranteed to get you wet.  Stand-up paddleboards are also available to try at calmer patches of water.
A full-day, 17-mile trip down the Rio Grande Gorge through the "Box," which starts northwest of Taos, is considered one of the best one-day wilderness trips in the US.  The trip covers 60 rapids; including 15 Class IV (maximum difficulty is Class VI, while a Class II rapid is considered ho-hum).  Half-day options tend to be less challenging.
All outfitters employ highly experienced river guides, for whom your safety is the first priority.  Children are generally welcome on the trips, depending on the age of the child and the difficulty of the rapids.
The mellower Chama River runs through Georgia O'Keefe country, and is more of a "float" experience, with only a few Class II rapids.  It's the perfect river trip for those less interested in adrenalin, more in spotting bald eagles, passing by 150-foot red-rock cliffs, and picnicking in a grove of ponderosa pines.  The Chama is regulated– water is released from El Vado Dam on weekends, fewer boats are licensed to lead trips, and the river is much less populated.  Overnight trips are also offered here, with everything from gourmet chefs and luxury camping, yoga classes, live music, fishing, even floating history lessons provided by Native American guides.
When: May through September.
Where: Rio Grande and Chama Rivers, north of Santa Fe.
Book Your Getaway…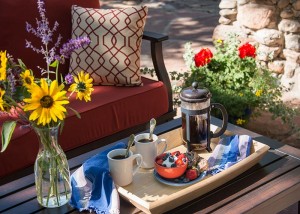 Book your stay at Inn of the Turquoise Bear for your ultimate summer vacation in the Land of Enchantment. Enjoy luxurious amenities and fuel up before hitting the river with our delicious multi-course breakfast, included with your stay!  We offer an authentic Southwest experience at our famous inn set in a historic adobe estate walking distance from downtown attractions and dining.