The holidays are one of the most festive and affordable times to visit Santa Fe. With more than 300 days of sun to boast of each year, escape your winter gray skies for sunny Santa Fe! Santa Fe's bright blue skies may inspire you to take a hike through our mountains, to sit back and watch the beauty of a winter sunset while sipping hot chocolate, to enjoy a delicious meal in one of our world-class restaurants, or to shop for unique gifts for your loved ones this holiday.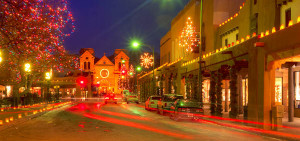 No matter what it is you're looking for this season, give yourself the unique gift of a Santa Fe holiday get-away, and you'll give yourself a memory for a lifetime. Walk through our historic Plaza illuminated with candle-lit luminaria and millions of twinkling lights and stroll our tree-lines streets featuring shops transformed for the holidays adorned with real balsam boughs. Stay with us at the Inn of the Turquoise Bear this winter, with our wood burning fireplaces and experience the magic of Holidays in Santa Fe!
Santa Fe Holiday Shopping
While you're here in Santa Fe, don't forget to bring your holiday shopping list with you because Santa Fe is a gift-giver's paradise! This is the perfect time and place to score future smiles from one-of-a-kind holiday surprises. Stylish boutiques and colorful galleries line city streets, beckoning you through the doors for a uniquely Santa Fe holiday experience. Join the SWAIA Winter Indian Market on the weekend after Thanksgiving, Nov 27 – 29, where you can interact with favorite local artists while discovering that perfect gift for yourself or someone on your list.
If you seek unique discoveries, the Museum of New Mexico's shops need to be on your list. From folk art and handcrafted jewelry to books and children gifts galore, the museum's staff has searched far and wide to come up with a collection of distinctive global and regional gifts that reflect each museum's individual mission. Your purchase spreads holiday cheer back to the artisan's hands that actually hand-crafted them.
Santa Fe Holiday Activities
When you need a break from holiday shopping, then head to one of our many wonderful holiday activities happening throughout the season and beyond. The Santa Fe Symphony featuring the Santa Fe Symphony Chorus and world renowned guest soloists presents Handel's Messiah on Nov. 21 & 22. The Santa Fe Christmas season officially kicks off when the lights flicker to life on in the Plaza on Friday Nov 27th at 6pm. Join Santa Fe residents at our annual Christmas at the Palace on Friday Dec 11th. Santa Fe's beloved Christmas at the Palace brings residents and visitors together for an evening of hot cider, cookies, live music, piñatas, craft-making activities, and a visit from Santa & Mrs. Claus.
Delight in a world of magic and wonder at the Aspen Santa Fe Ballet's rendition of The Nutcracker at The Lensic on Dec 19 & 20. Adults and children alike delight in watching the Holiday Model Trains travel around the First National Bank of Santa Fe at the Plaza. Take in Santa Fe's beautiful Loretto Chapel and its miraculous staircase as you've never before when Pro Musica presents A Baroque Christmas, Dec 19 – 24, at the Loretto Chapel with music by Bach, Corelli, Handel, Vivaldi, and Traditional Carols, featuring Inn Owner, David Solem on Organ.
One of Santa Fe's most beloved holiday traditions, the Canyon Road Farolito Walk, lights up the hearts & souls of visitors to Canyon Road each holiday season with beautiful farolitos, bon fires, mulled-wine, hot chocolate, Christmas carols, and general merriment. Then return to our Inn for our annual tradition of hot chocolate and New Mexico's official cookie….the biscochito!
Experienc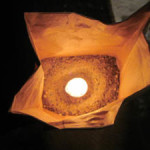 e the winter calm and beauty of Santa Fe for your post-Christmas get-away. Enjoy the smell of Piñon burning in your guest room kiva fireplace and throughout the town as you enjoy a glass of wine by the fire. Santa Fe Pro Musica presents J.S. Bach's Brandenburg Concertos at St. Francis Auditorium on Dec 29 & 30 featuring Inn owner David Solem on the harpsicord. For more holiday events, check out our events calendar.
It doesn't matter how you celebrate the holidays; Santa Fe has something for you. We look forward to your visit at the Inn of the Turquoise Bear this year, to experience the magic of Santa Fe during the holidays.