The Witter Bynner Room in our Santa Fe, New Mexico bed and breakfast is a spacious, second-floor room featuring a large fireplace, king-size bed, viga beam ceiling, windows on all four sides, and a sitting area with a full-size sofa and three overstuffed chairs.
Attached to this room in our Santa Fe bed and breakfast is a private balcony nestled among towering pine trees with gorgeous views of the gardens, Santa Fe, and the Sangre de Cristo Mountains.
This room was originally Bynner's study.  The newly renovated bath, including spa shower, is private but accessed by going down four steps in the adjacent public stairwell.  Robes are provided.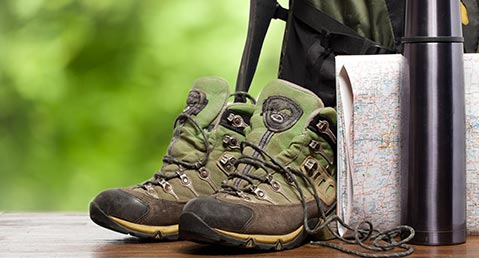 Trekking Package
Package includes everything you need to enjoy a day of hiking on the trails around Santa Fe. Includes; trekking poles, Falcon's guide to the Best Easy Day hikes in Santa Fe, and an insulated lunch stash and more.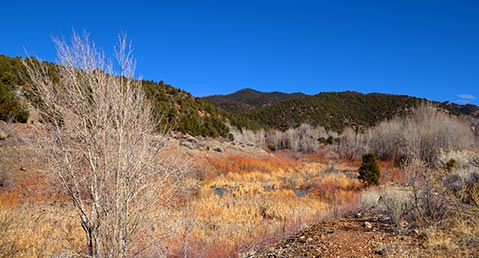 Hiking Packages
Explore Santa Fe's natural beauty with ease by taking advantage of our hiking packages and leave your gear at home. Our Bear Trekking Package is suitable for the intrepid, all day hikers.